Multi-million pound 'Future Carrington' scheme gets green light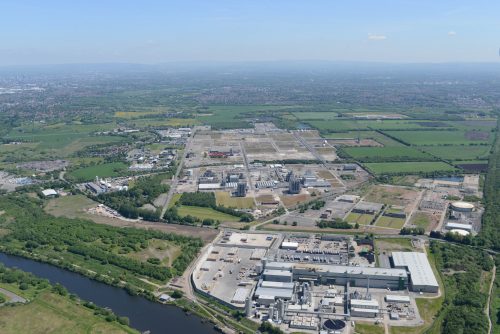 Plans for 725 homes, a village centre, parks, a rugby club and one million sq ft of employment space have been given the green light by Trafford Council in Greater Manchester.
The 'Future Carrington' scheme is subject to a legal agreement being in place and paves the way for regeneration of the Carrington estate, with work potentially to start within a year.
The decision will see up to 1,800 jobs created and new life breathed into the former Shell petrochemical site.
Following the decision Darren Jones, managing director of developer HIMOR, said: "Future Carrington is a flagship vision as part of the Northern Powerhouse and we're delighted this planning consent enables the delivery of long-held, shared ambitions to create a thriving, high quality community.
"This decision will be the catalyst for substantial investment that will bring much-need new homes, jobs and community facilities to Carrington and, ultimately, a lasting legacy for residents and businesses in South Manchester."
Working in partnership with Trafford Council, HIMOR now intends to prepare a reserved matters application for the development site and has appointed project managers to progress the first employment spaces.
With interested housebuilders already identified, it is anticipated that work to deliver the new homes will start in late 2017.
Helen Jones, Trafford Council's Deputy Chief Executive said: "Future Carrington is a strategic priority for Trafford Council and will deliver transformation at a scale rarely witnessed.  We're proud of what our partnership with HIMOR has achieved so far – a deliverable vision for a new community that responds to the aspirations of local people and businesses.
"Regeneration of Carrington and the surrounding area is a unique opportunity for growth in Greater Manchester and we're pleased that Trafford is leading the way in embracing change.
"I have no doubt that Future Carrington will set the benchmark for how to create a new community.  It will bring long-term benefits that will underpin Trafford's standing as the ideal location to live, invest and do business."
As part of the plans, Carrington Rugby Club will be re-located to a new facility within the community.
Club Chairman Stuart Brame said: "Carrington Rugby Club are delighted to be supporting HIMOR's plans to re-locate our club to a new and much improved site. We would like to thank HIMOR for going over and above their statutory obligations, and look forward to growing our rugby club and welcoming new members from the local community."
The milestones follows more than18 months of consultation with the surrounding communities, during which residents and businesses helped shape the vision for the site.
Future Carrington was named in the Government's Northern Powerhouse Investment Opportunities Portfolio, as one of 12 priority projects that will drive £5bn of investment into the North.