BAE Systems triumphs in big choir showdown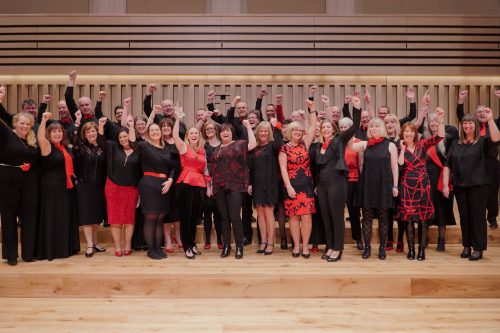 BAE Systems has been crowned the winner of the 2017 Corporate Choir Competition run by Manchester-based orchestra The Hallé.
The competition – which took place at The Stoller Hall at Chethams School of Music in the city – featured choirs from organisations across the North West, with each choir performing two Christmas themed songs.
BAE Systems entered the competition for the first time this year and were the largest choir in the competition with 37 singers.
The choir performed arrangements of Winter Wonderland and Ding Dong Merrily on High, and judge Mathew Hamilton explained that they had awarded prize to BAE Systems as when they performed, 'everyone in the room was so thrilled to be there listening to them'.
Jane Cleator, member of the BAE Systems choir, said: "We didn't really know what to expect from the competition, so the aim was just to perform to the best of our ability and enjoy the occasion.
"It was a thrill to sing on stage at The Stoller Hall with its amazing acoustics and ambience, together with the enthusiastic and talented Rory Johnston, our Hallé Conductor.
"I think it's fair to say that we're all still in a state of shock and heighted emotion – we just didn't expect to win. It will be a dream come true to perform at the Bridgewater Hall and a proud moment for us all, especially as we are representing BAE Systems."
The Brother International Europe Choir were also recognised on the night, winning the Sir Mark Elder Award, a prize given at the judge's discretion for a particular aspect of the performance.
The award was given this year for the 'most improved choir' and was awarded to Brother International Europe in recognition of the work this choir has done in the last year developing their sound.
Matthew Hamilton, Hallé choral director and Corporate Choir Competition judge, said: "The competition just keeps getting better and better, we were extremely impressed with the standard of performances this year.
"It is such a great pleasure seeing choirs return each year and seeing the progress they are making together, but also a real joy to have new choirs in the competition, and the performances from our newcomers this year were fantastic. It is such a wonderful and joyful afternoon of music making."