Bid to resurrect 202-year-old Wellington Rooms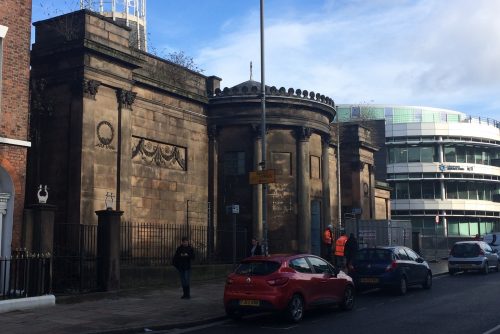 Consultation is taking place over the future one of Liverpool's most treasured buildings.
The grade II-listed Wellington Rooms in the city's Knowledge Quarter on Mount Pleasant has been empty for 20 years, but plans have been drafted to resurrect it.
The public are today (Wednesday, March 21) invited to the Piazza Café & Bar until 6pm to see the proposals.
Merseyside Building Preservation Trust (MBPT) is hosting the consultation based on results of an options appraisal of the 202-year-old building, which is currently undergoing urgent repairs.
The neo-classical venue, which was originally used for high society dance balls and latterly as the city's Irish Centre, lies within the buffer zone of Liverpool's World Heritage site and is recognised by the city council and Historic England as Liverpool's top heritage priority.
Following the consultation the MBPT, in partnership with Liverpool City Council Historic England & URBACT, is hoping to secure a development partner by the summer and will look to make a bid to the Heritage Lottery Fund to secure its full restoration.
Bill Maynard, chair of the Wellington Rooms steering group and MBPT, said: "With the works now underway to stop the Wellington Rooms deteriorating we now want to hear from people as to its future uses. There are a number of options on the table and we want to make sure that we realise the full potential of this remarkable building and secure its use for future generations."
Cillr Alice Bennett, Liverpool's mayoral lead for Heritage and Design, said: "The Wellington Rooms is one of Liverpool's oldest and most important buildings. The council continues to invest in its assets to create a fantastic city with heritage at its heart. I'm delighted that we can share initial ideas with such experienced partners to support us on how we bring this great building back into use and importantly, make it available again to the public."
Liverpool City Council's "Buildings at Risk" programme is the most successful project of its type in England. Since 2008 there has been a 75% reduction in 'at risk' buildings with St Luke's – also known as the bombed out Church – the most recent to be refurbished.
A recent survey has also shown that almost £750m has been invested into historic assets within the city's World Heritage Site including the upgrade of 37 listed buildings since 2012, 18 with council financial assistance.