Demolition of Peterloo House begins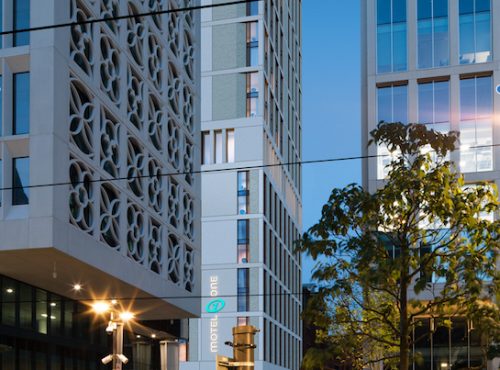 Six-month site clearance to make way for Property Alliance Group's hotel project
The demolition of Peterloo House at 3 St Peter's Square in Manchester is underway.
The vacant, eight-storey 1970s office block in Manchester city centre is being torn down to make way for Property Alliance Group's 20-storey hotel building.
Russells Construction has been appointed to carry out the work and construct the new development, which will sit behind the new One and Two St Peter's Square office blocks.
Alliance secured planning permission for the scheme last July and has operators Motel One and Staycity Aparthotels signed up.
Motel One will occupy the first eight floors with 328 hotel rooms. Staycity Aparthotels is taking floors nine to 20, providing 256 studios and one- bedroom units under its premium 'Wilde Aparthotels' brand.
Russells is undertaking a six-month 'controlled demolition' to clear the site, after which enabling works will commence to allow for the construction of the 20-storey tower, plus basement level.
Asbestos removal and internal strip out have been completed, with the external demolition ongoing this month and the site entirely cleared by May 2018. Between 80% and 90% of the old building will be recycled, with much of the concrete and brick crushed for use as fill for the foundations of the new construction.
Andy Lavin from Property Alliance Group said: "This is a hotel scheme unlike any other in the city centre, bringing together two different but complementary brands into the same building.
"One of the biggest draws for Motel One and Staycity was the fantastic location of 3 St Peter's Square. It is walking distance to the region's best shopping areas, an array of bars, restaurants, theatres and casinos.
"The Metrolink hub is also just yards from the front door, providing guests with easy access to the train stations, airport and visitor destinations like Old Trafford or the Arena.
"We're pleased to be contributing to the regeneration of St Peter's Square, creating a vibrant, attractive and economically valuable use for this previously vacant site. The scheme is one of several Alliance developments which will be on site this year with a combined value of more than £200m."
Gareth Russell, director of Russells Construction, said: "We've started the controlled demolition of Peterloo House, a project which will continue until the summer when we'll begin piling foundations for the construction phase.
"The demolition is a very labour intensive, deliberate and careful programme of works, designed to mitigate disruption to the surrounding area.
"This whole area is currently very busy, with contractors working on the old cinema site, plus there's a hotel, apartments and offices either side. We have closed three of the roads around the building and will be installing scaffold and a wrap around two sides to provide protection from dust and debris."
Designed by Stephenson Studio in conjunction with Leach Rhodes Walker, the building is scheduled for completion in 2022 and will be finished in a decorative pre-cast concrete façade, similar in tone to Motel One Piccadilly and the neighbouring One and Two St Peters Square.
The Motel One entrance will open up into Dickinson Street and St Peter's Square, while the Staycity reception will open up into Back George Street and Dickinson Street.
The building will provide both brands with their third premises in the city. It will expand Motel One's presence to 932 rooms, adding to the 330 at Motel One Piccadilly in London Road and 302 rooms at Motel One Royal Exchange in Cross Street, both built by Russells.
Staycity Aparthotels also has two existing sites at Laystall Street and at Piccadilly Station.