Builder appointed for major city centre development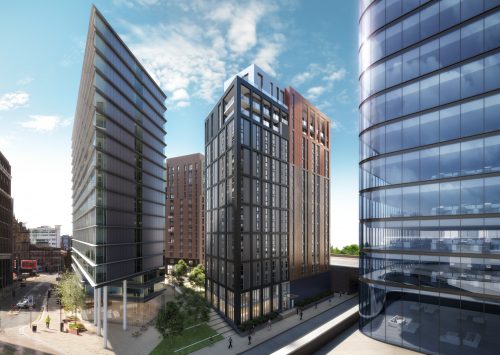 Property developer Select Property Group has appointed Sir Robert McAlpine for the construction of its latest developments in 'Embankment West', a mixed-use neighbourhood in Manchester city centre.
A team of construction workers are currently on-site and works have been progressing since October 2017.
Located on the former site of Exchange railway station, Embankment West is already home to Select Property Group's CitySuites development of luxury serviced apartments, which opened its doors in January 2017.
The site will also comprise a second development, CitySuites 2, along with two residential buildings from Alderley Edge-based Select Property Group's 'Origin Homes' brand – Laurence Place and Exchange Point.
Embankment West will also be home to a number of office and retail units, including plans for at least two new restaurants.
To date, works to enable the demolition of the arches on the site commenced in October 2017 and have included ground investigations, asbestos removal and archaeological excavation.
On the appointment of Sir Robert McAlpine Select Property Group managing director Adam Price said: "I'm delighted that we've secured one of the UK's most renowned constructors to build this incredible new area in the heart of Manchester.
"It undoubtedly offers one of the city's best locations for tenants and visitors alike, close to Manchester's main shopping and business districts, and will quickly become a hot spot for commerce and further investment."
A spokesperson for Sir Robert McAlpine said: "We are delighted to work with Select Property Group on this fantastic project.
"It is always a pleasure to bring our experience and expertise in construction to projects we know will have a positive impact on local communities."