JV North to build almost 4,000 homes and invest £623m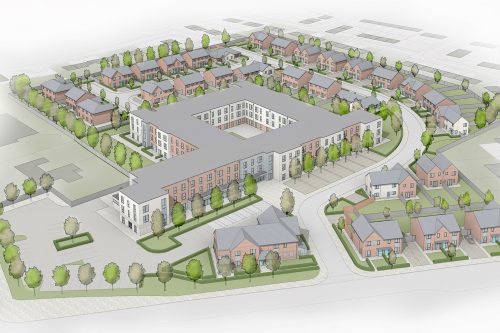 A North West social housing consortium is to build nearly 4,000 homes and invest nearly two-thirds of a billion pounds by April 2021.
JV North has received £125m grant funding from Homes England, with its nine members investing £498.2m.
The funding and investment will see 3,849 homes built in Greater Manchester, Merseyside, Preston and Cheshire.
Of the 3,849 homes to be built by the end of March 2021, there will be 1,457 for shared ownership, 1,387 for rent to buy, 489 as specialist housing for rent, and 516 as affordable rent.
In the last financial year JV North claimed £43m from Homes England for the final year of the 2015/18 Affordable Homes Programme and the current 2016/21 Shared Ownership Affordable Homes Programme.
JV North also brought forward 184 starts on-site from continuous market engagement bids during the year.
JV North chairman Nigel Wilson, who is also chief executive of Wythenshawe Community Housing Group, said: "Together with Homes England, we are investing well over half a billion pounds in the 2016/21 Shared Ownership Affordable Homes Programme to build 3,849 homes, and while this is ambitious, we are well on course to deliver.
"Grant of £43m is the highest amount we have claimed in one financial year.
"It demonstrates how committed members are to building new homes and how well managed the JV North development programme is.
"We have a varied programme of scheme types and tenures, a resilient business plan, and a proven track record to help us meet demand across the North West from rural sites to city centre developments."
The consortium, which collectively manages 114,500 homes, has a long history of development having built the equivalent of one home every working day since forming in 2007.
It recently committed to building two homes every working day until April 2021.