Bruntwood's flexible serviced space attracts trio to Trafford House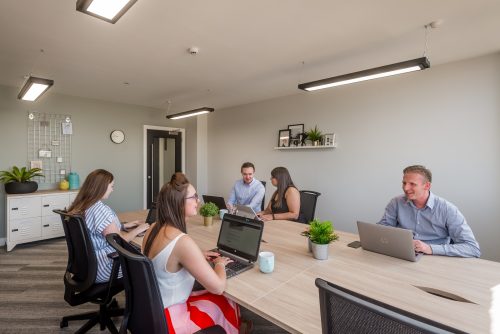 A trio of fast-growing businesses has located at Bruntwood's Trafford House on Chester Road, taking three flexible serviced offices with the leading regional property company.
Daniel Owen, a recruitment company specialising in the construction environment, Sauter Automation, a building management and room automation specialist, and Linear Recruitment, which specialises in construction recruitment, have all moved into new office spaces at the building.
Trafford House is situated between Manchester United FC and Old Trafford Cricket Club on Chester Road in Old Trafford.
The landmark building offers high-quality, flexible serviced office space, which is proving particularly popular with fast-growing SMEs.
Many businesses look to stay and expand within the building and relish the opportunity presented by the short, flexible leases, which are available for as little as one month – ideal for growing companies with changing or temporary requirements.
Andrew Cooke, regional director at Bruntwood, said: "Flexibility can be the difference between sink or swim for many small businesses, and that's something we understand.
"Providing a location which supports and enables companies to thrive and grow is at the heart of our ambition for Trafford House and we're so pleased to be welcoming two new businesses and continuing a valued relationship with an existing customer.
"Trafford House is an extremely flexible, convenient option, providing businesses with a fully-equipped office, complete with the furniture and fittings they will need.
"Our friendly, personable team is on hand to take away the day-to-day hassle of running an office – an ideal solution for busy people who would rather be focusing energy on developing their businesses."
He added: "A lot of our customers grow with us, and as such, we also offer expansion space for businesses that want to move to a managed leased office option. We wish our new arrivals every success and look forward to seeing them thrive in their new space."
Linear Recruitment has taken 12 desks in the building. The company offers temporary, contract and permanent recruitment services across construction, rail, power and utilities, and industrial sectors.
The company has specialist teams across the country, providing national coverage through offices in Newcastle, Leeds, Manchester, Sheffield, Northampton, and London. The business' new office at Trafford House will be its second Bruntwood base – it also has an office at the developer's West One building in Leeds.
Sauter Automation provides products, expertise and solutions for building management and room automation throughout the building life cycle.
An existing resident in the building, the company had been based on the building's fourth floor since 2002. It will be locating internally, to take eight desks on the second floor of Trafford House.
Construction recruitment company Daniel Owen is moving into Trafford House and has taken two desks in the building.
The business operates nationally from offices in London, Reading, Oxford, Bristol, Taunton, Walsall and Birmingham and works with some of the UK's largest construction, maintenance and engineering companies, placing quality temporary and permanent workers to all roles in the built environment.
Bruntwood has invested in a new wireless infrastructure which will allow customers to take their secure, high-speed network beyond their desk, and into the new business lounge, meeting room and co-working booths.
Furthermore, Trafford House is one of the most highly connected buildings in the area with speeds available today of up to 10Gb.
Companies can also access the building's fitness studio which features Les Mills classes, their dedicated onsite team and the community event programme which brings like-minded businesses together.
Trafford House also has on-site car parking, a gym, showers and bicycle storage.