People on the move: Philip Bates & Co; Westgrove Group; Context; Facebook; Petty; CSG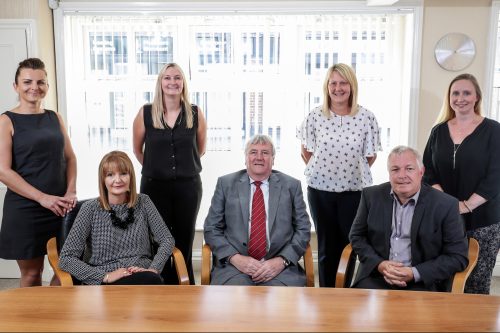 Cheshire-based Chartered Financial Planners Phillip Bates & Co Financial Services now has three Chartered Financial Planners in its team.
The company is one of only a handful of firms in the region to have Chartered Financial Planner status.
Helen Brown, senior financial planner and Margo Dorozik, client service manager, join managing director Alan Mellor in becoming Chartered after passing their exams with flying colours.
Alan Mellor said: "As a firm we are immensely proud of our Chartered status and it is something that Margo and Helen have worked extremely hard for. They thoroughly deserve all that they have achieved.
"Helen and Margo's qualifying is further recognition of our commitment to delivering high quality financial planning services to our clients."
The company also welcomes two new starters – Nicky Wilson has joined the firm as client service manager and Joanne McGarry as administrator.
Mr Mellor added: "Nicky has lots of experience in the IFA market and wider experience in planning for small businesses.
"Joanne has a decade of experience at IFAs on the Wirral and will be a key cog in the administration of our clients' affairs, ensuring that we carry out their financial plans effectively."
::
Facilities management company The Westgrove Group has recruited a new operations director to head up its service delivery function.
Luanne Hall, who has worked in facilities management across a range of sectors, has been brought on board to help with the continuing rapid growth of the independent company which celebrates its 20th anniversary later this year.
Luanne, from Hale in Cheshire, moved to the UK from South Africa in 2005 where she ran her own facilities services business.
Westgrove, based in Warrington in the North West, specialises in providing security, cleaning and security services in high footfall destinations such as shopping centres, corporate, mixed-use and retail environments across the UK.
Claire McKinley Smith, managing director of group, which employs more than 1,000 people across the UK, said: "Due to the rapid growth of the business over the last few years it was imperative we reinforced our operations at a strategic level.
"Luanne's wealth of experience within facilities management in the UK, as well as owning her own business in South Africa, will add real value to the business."
::
North West technology PR specialist Context has hired former ITV web reporter Luke McDowell to support its growing client base after a succession of new business wins.
Luke joins Context after a career in both television and PR, having spent time working as a researcher in daytime TV and online reporter for ITV News, before moving to Clarity PR where he gained experience working in blockchain and cryptocurrency.
In his new role, Luke will be working for clients in consumer technology, healthcare technology and unified communications. He graduated from the University of Salford with a Bachelor of Arts (BA) in Radio and Television.
Frank Smith, managing director at Context, said: "Luke brings with him a wealth of knowledge and contacts in broadcast media which will be invaluable to our clients. His enthusiasm for the industry and previous experience in blockchain and cryptocurrency makes him an integral part of the team."
Context has secured a number of new retained clients over the past six months including talent solutions company Ignata, Warrington-based user profile and web data management specialist Avanite, and primary care workforce development specialist Practice Managers Association (PMA).
::
University of Manchester Professor of Political Science, Rachel Gibson, has been appointed to a new commission into the influence of social media on the democratic process.
The Brexit result, Donald Trump's presidential victory and other referenda and elections in recent years have been heavily influenced by the use of social media, and Facebook has received criticism for not acting after data breaches led to personal information from more than 50 million users being used by Cambridge Analytica to target voters.
Facebook's new commission aims to provide independent, credible research about the role of social media in elections, as well as democracy more generally – it will make Facebook data available to the research community to investigate these areas.
Rachel was appointed as she is a renowned expert on electoral participation and the internet – she has been publishing research on this subject for the past 20 years.
She will be a member of the civic engagement committee. The commission is expected to report on its findings next year.
"This is a very exciting initiative that will hopefully unlock Facebook data for academic analysis," said Rachel.
::
Lancashire estate agent Petty's commercial division has appointed a new RICS-registered chartered surveyor with more than 25 year experience into its survey department.
Michael Crosby, previously at Byrom Clark Robertson in Manchester, has vast experience in the field including providing expert evidence in legal cases.
Brent Forbes, commercial director at Petty's, said: "We're really pleased to have Michael on board, his expert knowledge across all aspects of our business, including his legal experience, adds to our already extensive commercial department skill set ensuring we meet the needs of our clients."
Michael, originally from Pendle but now living in Haworth, said: "Petty's are celebrating 90years this year and have maintained a great reputation in the area for all that time which is an amazing achievement for any business.
"That doesn't happen without consistent hard work and dedication and I'm looking forward to being a part of their team and continuing the hard work."
::
A Manchester woman is helping to protect people and the environment in a new compliance role with one of the UK's biggest waste management companies.
Diana Baker has joined CSG at its Cadishead depot as health, safety and environment administrator.
The role sees the 28-year-old supporting colleagues across the waste management company's Northern region, as she explained: "At such busy industrial facilities it is vital everyone understands health, safety and environmental regulations and that we all work together to maintain best practice," she said.
Prior to joining CSG, Diana worked for a waste company helping to change people's views on recycling through school visits and community projects.
Compliance manager Sarah Taylor said: "Diana brings real energy and enthusiasm, and her attention to detail will support our commitment to the highest standards of health, safety and environmental compliance both here at Cadishead and at all our Northern sites."