Developer Urban Splash starts work on £50m Midlands neighbourhood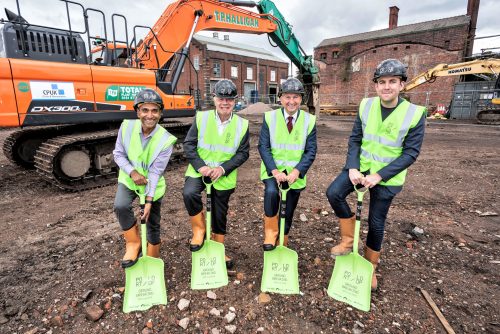 Manchester developer Urban Splash has begun work on what has been described as Birmingham's most exciting new development – the £50m transformation of Port Loop.
The urban island, encircled by the Birmingham Canal Old Line and the Birmingham Canal Navigations Main Line, is one of the UK's most significant brownfield regeneration schemes.
The area will be transformed into a new family-focused waterside neighbourhood by a pioneering joint venture partnership of award-winning regeneration company Urban Splash and one of the largest property and leisure management, development and regeneration companies in the UK, Places for People.
The Urban Splash and Places for People JV will work in tandem with landowners Canal & River Trust and Birmingham City Council to create 1,150 new homes, as well as commercial property and community facilities across the 43 acre site.
The start on site of the first 77 homes means that work is now under way to realise an ambitious masterplan that will feature not only new homes, but also shared courtyard gardens, new public parks and community spaces, together with canalside retail, leisure and commercial facilities.
Adam Willetts, project director for the JV, said: "This transformative project is a catalyst for even wider regeneration of the Icknield Port Loop area for family city living, all just 15 minutes' walk from Birmingham city centre.
"With creative and innovative design built in, our aim is to bring huge benefits to the existing community as well as those attracted to the new development with vibrant new uses for the canals and canal-side spaces and providing a range of modern homes.
"The extensive and multi-faceted remediation of the site has been under way since the start of the year, including the complex rebuilding of the canal walls, clearing and recycling around 60,000 cubic metres of soil and materials and re-engineering the site levels to get it ready for bringing this new neighbourhood to life."
The first housing to be delivered will include 77 urban family homes, each benefiting from a private garden terrace or access to a private courtyard.
Forty of the properties will be created off site by House, the Urban Splash modular brand, meaning customers can design the internal layout and composition of their own homes.
These will launch for sale in the Autumn. The remaining 37 homes have been designed by award-winning Birmingham architectural firm, Glenn Howells Architects and will launch for sale next year.
James Lazarus, head of joint ventures at the Canal & River Trust, said: "We know that spending time by the water can help people feel happier and more relaxed so this regeneration can bring real health and wellbeing benefits to this part of Birmingham."
Planning permission is in place for the whole of the first phase with a mix of 207 family homes and apartments, together with a new park.
Work is also under way on plans for the wider community facilities to deliver the mix of amenities for the neighbourhood to ensure that there will be opportunities for people to spend time both beside and on the water with canal-side cafes, waterborne sports hubs, community spaces and commercial opportunities, while personal and shared spaces will be provided for residents.
Leader of Birmingham City Council, Ian Ward, said: "This is, without doubt, one of the most exciting residential developments in the city for a very long time.
"The variety of housing types, layouts and sizes will lead to the creation of a genuinely mixed, multi-generational community attracted to a unique waterside location with sustainable access to the very core of the city."
The original Icknield Port Loop was born out of the industrial revolution, with the first winding canal being constructed in the area between 1766 and 1769, before a straight canal by-pass, the Birmingham Canal Navigations Main Line, created an urban island in 1827.
The Port Loop masterplan was created by Macreanor Lavington, an award-winning practice specialising in housing and regeneration, while the first phase has been designed by shedkm, Grant Associates and Birmingham based Glenn Howells Architects.