World famous Royal Liver Building to get 21st century upgrade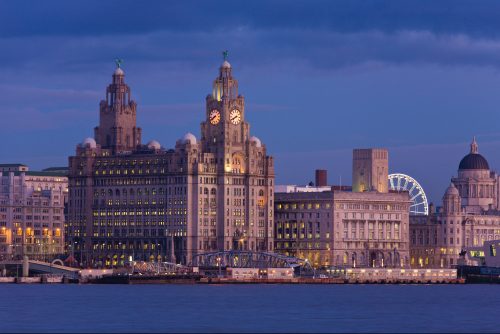 One of Liverpool's most iconic and best loved buildings is to get a multi-million facelift.
Acting on behalf of Corestate Capital, CBRE's Liverpool-based national building consultancy team has submitted multiple planning applications for Phase 2 renovations to take Liverpool's iconic Royal Liver Building into the 21st century.
The plans include the delivery of a world-class visitor attraction for the landmark building.
CBRE has been integral in advising on several parts of the property lifecycle for the Liver building.
Since the acquisition in February 2017, and the appointment of the best-in-class master planning team, Corestate has worked closely with CBRE's building consultancy, planning and agency teams, alongside lead architects Corstophine + Wright, heritage advisor Peter de Figueiredo and Curtins structural and civil engineers, to evaluate the existing building.
Following a vision exercise for the building, alongside consultations with local authorities and English Heritage, the repositioning scheme embraces a sympathetic solution to this Grade I-listed property to deliver a world-class office building to meet modern day office occupier requirements.
Five key areas will be covered in the planning submissions, including a world-class visitor attraction, Grade A office accommodation, a new restaurant, gym and cycle facilities, as well as linking the two large atria which will include a café/bar.
The world-class visitor attraction will be designed, delivered and operated by Heritage Great Britain in partnership with Corestate, which will open up the majestic building to the public for the first time.
In addition, Grade A office suites from 500 sq ft to 43,000 sq ft on the ground, mezzanine and first floor will be offered to suit a wide range of contemporary occupiers from diverse sectors.
The aim is to move away from big occupier accommodation to appeal to professional services, SMEs, creative and digital businesses, but also to deliver larger floorplates to accommodate blue chip, corporate occupiers.
Due to the growing emphasis on employee health and wellbeing as part of the work environment and the increasing demands from occupiers for these amenities, the plans include new cycle facilities and gym which will be accessed from a new Strand and entrance core.
Planning has also been issued to allow a new restaurant to be incorporated on the north west corner fronting the Pier Head.
Also included are plans for the two atriums to be opened up with additional amenities introduced at ground floor level.
A ground floor café bar is planned, as well as break-out areas and informal and formal meeting facilities for occupiers.
The renovated building will combine amenity, health and vitality, high quality office space and social/community aspects all under one roof in an iconic waterfront setting.
Simon Hepple, director, national building consultancy team in Liverpool said: "As trusted custodians of the future of this enduring symbol of Liverpool's history, we have drawn on the expertise of our multi-agency teams alongside our strategic partners to deliver a visionary and majestic office building fit for the 21st century.
"This is a hugely significant and exciting project for us and one we are extremely proud to be instructed on."
Chris Sinton, senior planner, said: "Working collaboratively with Corestate and the wider design team, CBRE has contributed to developing an ambitious long-term vision to re-position the Royal Liver Building with the aim of creating a truly vibrant and revitalised destination in Liverpool
"By undertaking a rigorous and robust visioning exercise, building on the building's challenges and opportunities, the design team has secured broad support from key stakeholders for key development objectives that will guide future proposals in relation to this iconic Grade I-listed building."
Neil Kirkham, director, office agency team in Liverpool, said: "There's an absolute drought of available office accommodation in Liverpool with diminished supply and little sign of new stock coming into market.
"The delivery of a wide range of Grade A office accommodation with associated first class amenities demanded by today's savvy occupiers, in the stunning, landmark Royal Liver Building, will go some way to meet current demand. We are delighted to be working on such a prestigious landmark."
Andrew Willoughby, director, property manager of the Royal Liver Building, said: "The key message that comes from the masterplan is that not only have we listened to the market, but more importantly our occupiers.
"They were involved from the early stages in telling us what they wanted to see in the building which has driven this process.
"Property management means more to us than simply demanding rent, it has to be more than that. It's more akin to experience management, enhancing the occupier and visitor experience, what we will deliver here, will create that unforgettable journey."
Allan Leech, chief executive of Heritage Great Britain, added: "Heritage Great Britain is extremely proud to be bringing a world-class visitor attraction to such an iconic landmark building.
"It's the first time in a number of generations that the world famous building will be accessible to tourists and residents, giving behind the scenes access and stunning 360 degree views across the city and region, together with cutting-edge technology to educate and entertain visitors."
Ed Baverstock, director, lead architects Corstophine + Wright, said: "We are delighted that our masterplan and vision for the transformation of this magnificent landmark building are now being realised.
"The initial phase of our proposals will provide both new amenities for existing and new occupiers and will encourage public access to the building for the first time.
"The delivery of refurbished Grade A office accommodation and new visitor attraction, restaurant and café/bar will reposition this iconic building into a world class destination."
Heritage Great Britain is aiming for the new attraction and tour to be open in early 2019 with tickets being available towards the end of 2018.
The Phase 2 repositioning scheme projects will be delivered between the first and third quarters in 2019.
CBRE has been instructed across three key divisions: Office agency, asset services and building consultancy.