Team of experts drafted in to improve city's night time economy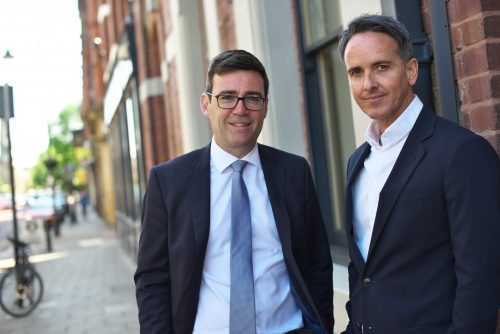 A panel of experts is being set up to look into Manchester's booming night time economy.
The panel is the brainchild of the city's first ever night-time economy czar Sacha Lord.
The experts will develop, discuss and deliver plans to improve the Manchester's nightlife.
Following Sacha's appointment last month, he has been tasked with advising Greater Manchester mayor Andy Burnham on all issues relating to the night-time economy.
Representatives from the LGBT Foundation, Greater Manchester Police, Live Nation and Transport for Greater Manchester are just a handful of the panellists that will work towards ensuring Manchester has a world leading night-time offer.
Sacha Lord, said: "I'm delighted to reveal the panel of experts I have enlisted to work alongside me in championing and improving Greater Manchester's thriving nightlife.
"These individuals have a wealth of knowledge in the night-time economy and will support the Mayor and me in developing and diversifying Greater Manchester's night-time offering.
"It is vital that the panel represents all of Greater Manchester and its residents, and I feel we have a diverse group with a wide ranging set of knowledge, skills and experience.
"I'm particularly pleased to welcome stakeholders from across our key public services including TfGM and the Health and Social Care Partnership, as well as leading figures from the industry and businesses.
"This group will be invaluable in ensuring that Greater Manchester's night-time economy is world leading."
The working hours of the night-time economy is from 6pm and 6am and encompasses a whole range of sectors.
Around 414,000 people in the city-region work in jobs or businesses that are active at night.
Andy Burnham, said: "The panel will play a vital role in shaping the future of the night-time economy and making Greater Manchester a safer, stronger, more vibrant place to live, work and visit.
"We have the ambition to be a top European, 24-hour city-region in line with New York, Amsterdam and Berlin.
"We need to ensure that we provide the solutions that are needed and make sure people can get around the city-region in a safe and accessible way.
"I want to see new life flowing into our towns and building a buzz in all of the proud boroughs of Greater Manchester, and that starts with a thriving and welcoming night-life with an international reputation."
Night-time economy panelist Jessica White of the LGBT Foundation said: "We are very excited about the launch of the panel and the opportunities it presents in bringing together those working across Greater Manchester's night-time economy.
"I am very aware of the challenges that exist in looking after the night-time economy, particularly in protecting the most vulnerable individuals. We hope to be able to work with key stakeholders in developing unified and impactful services and delivering a second-to-none night out."
The night-time economy panel will include:
• Sacha Lord – Greater Manchester Night Time Economy Adviser and Chair
• Paul Latham – COO, Live Nation
• Christine Cort – MD, Manchester International Festival
• Jessica White – LGBT Foundation, Community Safety
• Jon Drape – The Loop/Broadwick Live
• Felicity Tulloch – Kuits Solicitors
• Kemoy Walker – Community Guardian/Youth Worker Moss Side/Hulme
• Gemma Gore – Indigo PR
• Angela Stone – Best Bar None, Altrincham
• Sarah Walters – journalist, Ex City Life (MEN)
• Kim O'Brien – Head of Operations, Warehouse Project and Parklife
• Debra Civic – Security Industries Association
• Cllr Tamoor Tariq – Bury Council
• Manchester City Council representative
• Cherie Buttle / Chris Hill – Greater Manchester Police
• Bob Morris, Chief Operating Officer – Transport for Greater Manchester
• Colin Kelsey, Head of Urgent and Emergency Care Transition & EPRR – GM Health and Social Care Partnership
• Patrick McFadden – Sector Manager for Greater Manchester – North West Ambulance Service