Topping out for Mulbury's £30m Ancoats PRS scheme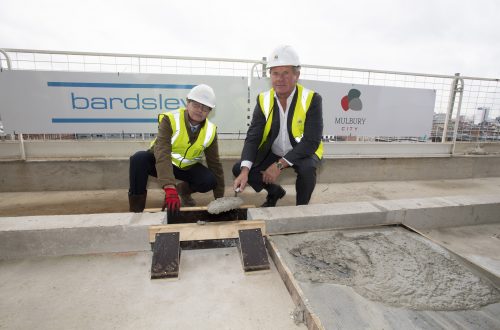 A £30m private-rented-sector (PRS) residential development in Manchester's Ancoats neighbourhood has officially topped out.
The 143-unit scheme, on the corner of Blossom Street and Great Ancoats Street, is being developed by Mulbury for DTZ Investors.
Representatives from Mulbury were joined by directors and staff from main contractor Bardsley Construction and frame contractor Cidon Construction to pour the final section of concrete.
The development is made up of two separate buildings – one eight storeys and one seven storeys – and will feature stunning resident communal areas and a roof-garden, as well as ground-floor commercial space. It is due to complete in June 2019.
James Alderson, head of Mulbury City, the company's city centre residential arm, said: "This is another important PRS development that supports the city council's housing delivery strategy.
"It's been great to see this development coming out of the ground, just a stone's throw from our other live PRS development across the road in the Northern Quarter.
"We're incredibly thankful to DTZ Investors for backing our vision for this site, which delivers another development that reflects the true values of the private-rented-sector."
Roly Bardsley, chairman of Greater Manchester-based Bardsley Construction, said: "Achieving topping out at Blossom Street and delivering Mulbury's first Manchester PRS scheme at nearby Port Street, puts Bardsley, a proud Manchester company, at the heart of the transformation of the city with such statement residential developments."
Designed by Tim Groom Architects, the development of one-, two- and three-bedroom apartments, and three townhouses, features floor-to-ceiling glazing on all floors to allow uninterrupted natural light into all rooms.
Due to its location in the Ancoats Conservation Area, Mulbury consulted with Historic England and Places Matter on the design of the development.
As well as the scheme at Blossom Street, Mulbury City is moving towards completion on its £26.7m Port Street PRS scheme, which is being developed for M&G Real Estate.