Manchester city centre to get another skyscraper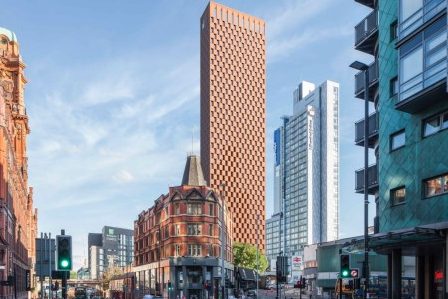 Developers have put forward plans to build a 55-storey sky-scraper which will offer high end student accommodation.
The new building in Hulme Street, put forward by developer Student Castle, will also be an SME incubator.
The new property will overlook Oxford Road Station be one of the tallest buildings in the area.
The scheme will see part of the existing multi-storey car park next to Oxford Road station demolished to create space for the building.
The new red brick building will include 850 studio apartments and will be 165 metres tall.
There will be 6,000 sq ft of communal and ancillary spaces for student use and 259 secure cycle storage spaces.
The SME co-working operation will have 8,000 sq ft of high quality space over four floors.
Students and postgraduates living in the building will be given the chance to work alongside start-up professionals in the incubator environment.
There will also be a common area on the top floor of building – adjacent to the 37-storey development at 1 GMS which Student Castle previously developed – with panoramic views across the city.
Architects Glenn Howells are design leaders on the project on behalf of GMS (Parking) Ltd.
Student Castle intends to open the landmark scheme towards the end of 2022.
Edward Cade launched Student Castle in 2010 with Jacqui Hawthorn with the aim of altering the perception of traditional student accommodation.
He said: "The building will become a new Manchester landmark and provide spectacular views over the city.
"The building also presents a significant windfall opportunity to redevelop a portion of an existing multi-storey car park adjacent to Manchester Oxford Road Station into a fully managed purpose-built student residence."
Alan McCartney, Studio Director for Glenn Howells Architects, said: "The design proposes a contemporary interpretation of the contextual red brick buildings present in and around Manchester.
"Its proximity to the local universities, transport hubs and the city core makes the site location ideal for an emerging student development, combined with an ambitious vision to design high quality student living where students would want to live.
"The provision of SME incubation space also offers opportunities for small businesses to have an affordable workspace."
Deloitte is the planning consultant on Hulme Street, WSP the structural and M+E engineers while AECOM is project manager.
Ed Britton, Assistant Director of Deloitte Real Estate, said: "The Hulme Street project will directly meet the need to improve and increase Manchester's range of student accommodation by providing high quality purpose built accommodation and will help encourage students out of city centre apartments.
"The SME incubator space will help nurture growing businesses and supports the strategic growth objectives of the City and Oxford Road Corridor.
"The scheme demonstrates exceptional design quality and will make a positive contribution to the emerging Oxford Road cluster and Manchester's skyline."