Cabinet approval for first Wirral Waters residential scheme
Wirral Waters is set to see its first major new build housing scheme developed, with a deal in place to see 500 new apartments built on the borough's largest brownfield site.
Proposals were today (October 1) approved by Wirral Council's ruling cabinet for the £90m 'Wirral Waters One' development.
The series of apartment blocks will be built on the waterfront site, with 20% of the new apartments available at affordable rents – twice the usual rate for this type of scheme.
The development will include a building near the junction of Dock Road and Duke Street with commercial premises to provide services and amenities to the local residents.
There will also be parking, high quality landscaping and a pedestrian route along the dock edge linking the residential developments.
The project will also provide £100,000 to the nearby Hive Youth Zone to support community activities for young people in the area.
Wirral Council's cabinet member for jobs and growth, Cllr Angela Davies, said: "We have been clear with every developer and landowner in this borough who has planning permissions in place: we will support you every step of the way, but we need you to build the homes you promised.
"The Wirral Waters One proposal shows just how serious we are in our determination to get brownfield sites developed.
"These types of schemes are always difficult for private developers to make viable. The council has stepped in and made it work, securing national funding to improve local infrastructure and devising a commercial approach which will see the financing put in place.
"It will also help Wirral in the longer term by generating ongoing revenue from the homes which are built which can be used to help unlock additional brownfield sites for development."
She added: "This is an exciting proposition which will play a significant part in helping us to deliver the new housing which the area so desperately needs and will also help kick-start even more development on one of the key regeneration sites in Wirral."
A spokesperson for land owner, Peel Land and Property, said: "This is fantastic news and we are delighted that, subject to planning and the various conditions, work on the first phase of residential developments can soon be under way at Wirral Waters.
"Wirral Waters One is a significant step forward in the creation of a new neighbourhood along Northbank and it will be the frontrunner for a number of other residential schemes.
"Wirral Waters One will incorporate great design and innovation and will lead the way in making Wirral Waters an incredible place to live.
"We have been working with Wirral Council on this project since December 2016, and so we'd like to thank our colleagues and partners at the council for moving this much-anticipated project forward and we're looking forward to starting work on site."
Wirral Waters One is part of a residential zone taking shape at the Northbank neighbourhood area on Dock Road, near to the old corn warehouses which were converted into residential units some time ago.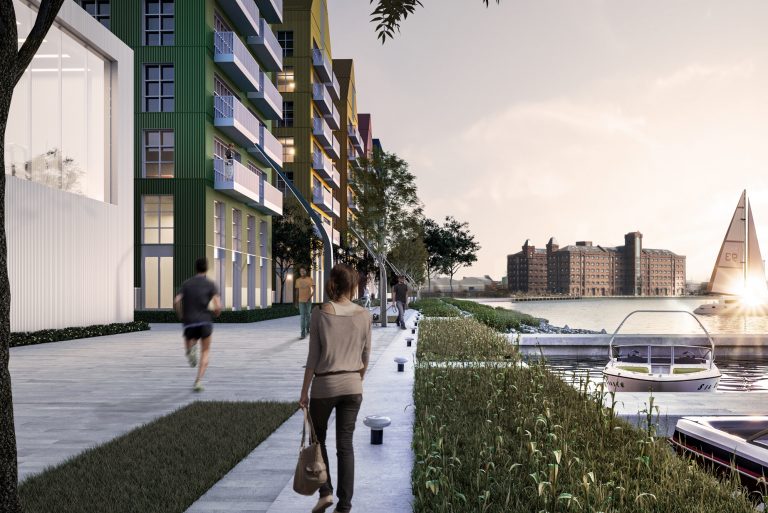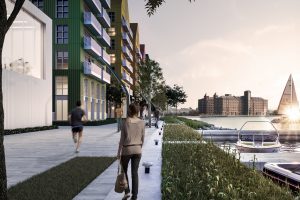 The design team has been led by Parkinson Inc, the masterplanner for Wirral Waters, working with Glenn Howells Architects, Re-form Landscape Architecture and Vectos Transport Consultants with Turley acting as planning consultants.
Wirral Waters One will be the frontrunner for a number of other residential-led schemes along Northbank, including the development of 347 modular homes by Peel and Urban Splash.
Alongside the residential schemes, other projects within Wirral Waters are on the drawing board, including a proposed £20m Maritime Knowledge Hub, a proposed £3.5m amenity and arts hub, known as Egerton Village, and a new £6m offices on Tower Road, all in close proximity to the residential developments emerging along Northbank.
Richard Mawdsley, director of development at Peel Land and Property, said: "The first residential quarter at Wirral Waters is becoming a reality. Wirral Waters One will incorporate state of the art residential design and innovation which will lead the way in making Wirral Waters an incredible place to live."
Glenn Howells, director at Glenn Howells Architects, said: "It is important that we create a living, thriving residential project with a real sense of place.
"We want to create a new mixed-use community that will set the standard for developing successful new waterside homes at Wirral Waters, focused around a sense of community and individual warehouse living."
Real estate advisors Colliers International advised The Legacy Sports and Education Foundation and Peel Land and Property on the financial structure to support the viability of this transaction.