Digital advertising screens planned for Old Trafford site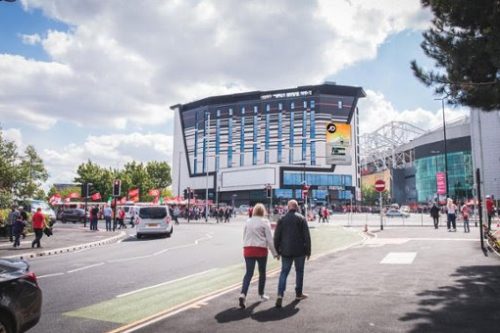 Out-of-home advertising media owner OPEN Media is expanding into Manchester with their first digital screens outside of Liverpool.
The two full motion digital screens use bespoke LED technology from one of Europe's leading visual communication experts, Concept Group, and sit on the North and South facades of Hotel Football, positioned outside Manchester United's Old Trafford stadium.
The screens go live on October 28, and mark the next phase in Liverpool-based OPEN Media's growth.
The new site will see two new jobs created at the independent company, which has further plans to roll out digital screens across the nation before the end of 2020.
Mike Smith, OPEN Media managing director, said: "This new partnership with GG Hospitality is one we're very excited about.
"Both companies have huge growth ambition so I see the relationship working very well.
"I'm incredibly proud of our team who have worked tremendously hard during the continual growth of OPEN Media.
"This is an extremely exciting time for us, not only are we expanding into a new city, but this launch marks the beginning of our national roll out.
"Our goal is to have sites in the UK's top seven cities by 2020, and we have some exciting projects in the pipeline to enable us to achieve this."
Hotel Football is beside Old Trafford, the home of Manchester United Football Club.
The site sees heavy footfall from visitors attending both football matches and other events in the popular venue, such as music concerts for acclaimed artists like The Rolling Stones.
The premium site is one of a kind. It is passed by 52,000 vehicles per day and by more than 75,000 fans on match days, and is located just two miles from Manchester city centre, the third largest city in the UK.
It has the ability to advertise to mass audiences spanning a wide range of demographics, recognised by JD Sports who have already committed as a long-term partner for the season.
Stewart Davies, group operations director at GG Hospitality, said: "Here at Hotel Football we are thrilled to be working with OPEN Media on their new venture in Manchester.
"We are looking forward to working collaboratively in conjunction with their two brand new screens over the coming months."