Medical service provides new lease of life for former corporate base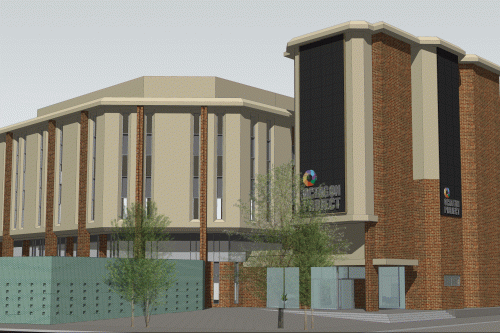 Having been virtually abandoned five years ago, the former Manchester headquarters of United Utilities is now supporting a specialist medical facility as part of a bid to attract more health-based tenants.
Octagon House, on Hathersage Road, Victoria Park, is the base for the new Central Manchester NHS Renal Dialysis Satellite Unit.
Occupying much of the ground floor, the dedicated unit, which consists of 35 state-of-the-art dialysis stations together with six isolation rooms, has been purpose-designed to provide a spacious and modern environment for dialysis patients, with easy access, dedicated car parking and ambulance drop-off.
The unit is capable of treating up to 40 dialysis patients each day and has a separate 15-station area for training patients on home dialysis, or to be self-caring in a more independent environment.
The facility is co-managed by specialist dialysis service provider, Fresenius Medical Care, which has a Lytham St Annes operation.
Its proximity to Manchester Royal Infirmary (MRI) makes it an ideal location for the specialist NHS renal medical and nursing team to provide the clinical care to patients who attend three times a week for treatment.
Dr Leonard Ebah, consultant nephrologist and clinical head of specialist medicine at Manchester University NHS Foundation Trust, said: "This community dialysis unit is an exciting new development and part of a wider project to provide care closer to home and in a non-hospital environment for our dialysis patients.
"We believe that it's a major step in driving forward and transforming the high quality dialysis service we provide to patients."
Amy Rowan, commissioning manager for Fresenius Medical Care, said of the partnership: "This type of relationship brings together the best operational efficiencies of a specialist private sector organisation with the clinical care expertise of the NHS, for the benefit of patients."
Once providing employment for more than 600 people, the Octagon building and site became vacant in 2013 when it was purchased by property developer Richard Everton.
He said: "We acquired the site with a vision that its future would be associated with medical research and technological innovation in the burgeoning life sciences sector of the city, all directly linked with, or related to, existing local healthcare institutions such as the MRI.
"The fact that the NHS chose the location endorses that belief to be well founded."
The proximity of the Octagon Project to Manchester's major educational and healthcare institutions is expected to drive the market for space, since it represents a rare opportunity to obtain modern, open plan workspace at the heart of the health and life sciences economy.
Steve Willock, director of relationships for the Octagon Project, said: "We are creating a market-responsive, high-tech business environment, which is powered by sustainable energy and backed by excellent data resources and connectivity.
"We were well aware of the building's attributes since it was formerly the hub of the old Norweb communications network, but it is the exceptionally large floor plates that set this building apart, offering up to 20,000 sq ft on each of the upper floors."
The rest of building, which is undergoing substantial remodelling and refurbishment, will be available for letting, in suites ranging from 2,500 sq ft to full open-plan floors, later this year.
Steve added: "The Fresenius Medical Care letting is a great achievement for all concerned with the Octagon Project and those, such as the city council, who have supported us from the outset.
"We are confident that this unique location will attract many more businesses in the healthcare sector, creating substantial employment opportunities and contributing to the economic upsurge of this area of the city."