Sensor City keen to build on a year of progress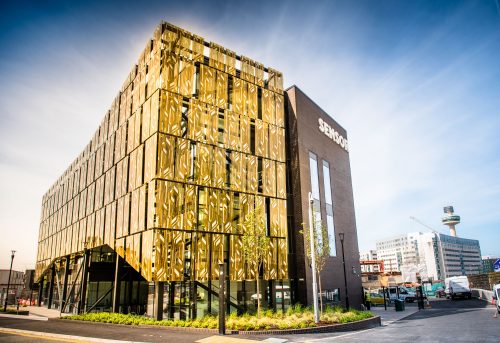 Sensor City, the Liverpool-based global hub for the development of sensor technologies, is marking its first anniversary by making ambitious plans to extend its role as 'honest broker' between business and entrepreneurs.
The £15m centre – backed by the University of Liverpool, Liverpool John Moores University, the Department for Business, Energy and Industrial Strategy (BEIS), and European funding – officially opened on November 9, last year.
Sensor City business development lead, Dr Joanne Phoenix, said they have hit their targets, and revealed new initiatives to engage more with industry and young talent.
BEIS has set Sensor City a long term target of creating 1,000 jobs and 300 businesses, but in the short term, Dr Phoenix said they are on course: "One year on we are hitting all our targets and driving engagement in the community," but she said there are some misconceptions in the marketplace about what Sensor City does.
As a flagship University Enterprise Zone, a key aim of Sensor City is to drive engagement between industry and academia.
It is doing this by creating an ecosystem of companies involved in sensor-related technologies, providing accommodation and rapid prototyping support and helping them to make relevant connections, whether this is to other, relevant companies or the more than 100 academics specialising in sensor technology within the partner institutions.
Sensor City is also able to support access to relevant student talent.
Dr Phoenix explained a typical scenario: "We have a very privileged position in that we can engage with many different companies and identify synergies between them. This enables us to introduce new technology providers to companies looking for novel solutions to their 'use cases'.
"For example, it might involve energy-harvesting technology (the solution) able to power sensors in the environment when not connected to a power source (the use case).
"In such situations we are able to act as an honest broker between two early stage companies who would not have found each other without us. We are able to make the relevant connections."
Another way Sensor City can connect business with cutting edge innovation is through a programme linking big corporates with small companies (SMEs) under their corporate partner programme.
The organisation has worked on three such cases so far, involving Anglo-Dutch conglomerate Unilever, EDF Energy, and housing provider Halton Housing, and is keen to do more.
Dr Phoenix said: "In each case, the businesses brought in a particular challenge to us.
"We helped to position the propositions and then launched a call for solutions to the innovative SME community in our ecosystem.
"We brokered the interactions and the corporates were able to choose which technology provider was most suitable for them to work with."
She added: "We are finding that many corporates are looking to make the best use of IoT (Internet of Things) developments, but many don't know where to start.
"By engaging with us they can optimise their search for suitable solutions and the upside is that our SME community gets a facilitated access into a potential corporate partner."
Almost a year after launching, 52% of Sensor City's offices are now occupied and Dr Phoenix said these companies are making progress: "They're doing well now and a number of them are raising funding – but it takes a while to develop these good news stories."
She admitted that a lack of early stage proof of concept funding from people like 'business angels' or the venture capital sector, and a paucity of business mentors, is a concern.
"We hope that by this time next year, if not before, we will have further funding opportunities available. It's very high on the 'to do' list, as is building a mentor base."
But she believes Sensor City has a major role to play in helping develop these fledgling ventures, and two new initiatives are aimed at achieving this.
One is a membership programme, and the other is building on student engagement.
She said: "The membership scheme is to help more people benefit from the ecosystem because we realise not everyone might want to be based here.
"It allows us to interact with the wider community and for that community to tap into our support, such as our laboratories. With membership they can have direct access under our Laboratory Passport Scheme if they want to come in and use our facilities."
There are no limits to the number of members, or location: "We want to allow companies in the UK, and overseas, to access our facilities and contribute to the ecosystem."
Dr Phoenix's other target is to help students link up with businesses, or business support, or even other entrepreneurial students.
She said: "We have a major role to play. When we talk to SMEs they say that engineers coming out of universities often don't have the right skills."
Sensor City believes it can remedy that by providing the right workforce for employers: "Businesses have problems getting access to good people. We can de-risk those key hires.
"I want us to attract companies to Liverpool, or the North West, who come because they know the graduates have an appreciation of where business needs to be with regard to sensor techology.
"If we have the right talent pool then companies will come. These two things go hand-in-hand."
She added: "We have a role to play to make sure our graduates are suited to the fourth industrial revolution.
"Most graduates want to stay here. We have to provide them with high value jobs to enable them to do that – and that can only be good for the economy."