Sensor City welcomes raft of new tenants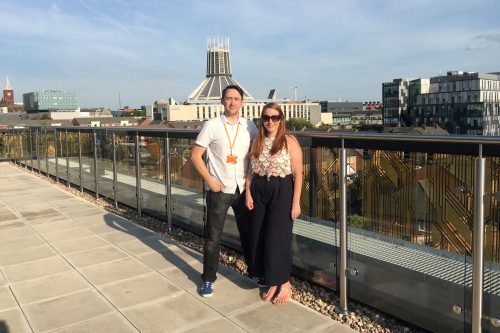 Technical innovation centre Sensor City is working towards making Liverpool City Region the 'go-to' location for Industry 4.0 technologies with a host of new tenants.
Open source engineer and design experts DefProc Engineering is the latest SME to join Sensor City's community of innovative businesses, after being impressed with its Internet of Things (IoT) offering.
Established five years ago DefProc Engineering supports individuals and businesses with products and services, including the development of ideas and the manufacturing of physical items for prototype.
The innovative SME already has connections in the sensor and IoT community as a partner of the 5G Liverpool testbed, which is being led by Sensor City.
DefProc Engineering also recently initiated 'The Things Network' community in Liverpool.
The Things Network is a first-of-its-kind open, global and crowdsourced IoT data network.
Owned and operated by its users, the network enables people to connect small low-powered devices to the internet without using Bluetooth, Wi-Fi or mobile data.
Going forward, DefProc Engineering will use its new base at Sensor City to explore IoT capabilities even further, expand its team, use the space to run events and undertake the roll-out of 10 new gateways.
Jennifer Fenner, managing director of DefProc Engineering, said: "We have recently relocated to Sensor City to access its state of the art equipment, and to be in the heart of the activity following the Liverpool 5G Consortium bid win, which we are part of."
BiBCOM has also taken desk space at Sensor City to develop its new remote condition monitoring and coaching tool.
Originally based in Sheffield, the company's innovative technology allows sports coaches to communicate directly with players during training sessions, even when on the pitch and working within a team.
Through the links with Sensor City, BiBCOM is now working with the renowned sports science department at partner institution Liverpool John Moores University (LJMU).
Academic and technical experts have helped the company construct a robust evaluation framework, which will now be rolled out in an elite Premier League football club's training academy to assess the impact of BiBCOM's novel approach.
Easa Taheri, owner of BiBCOM, said: "The extensive support we have received from Sensor City, in particular the help and support of Dr Joanne Phoenix, made us choose the hub as the location in which to grow our business.
"We're already experiencing the benefits of being surrounded by such a supportive community at Sensor City, and we are starting to explore synergistic links with other tenant companies which are also involved in sports training."
In addition to these new tenants, Sensor City has also recently seen a huge take up in companies hot desking from the innovation centre to tap into the facilities and expertise on offer. These include Pin IoT, Thinnovation, and Digi-Hawk.
Joanne Phoenix, business development manager at Sensor City said: "It's a really busy and exciting time for us at the moment.
"We're seeing more companies looking to introduce sensor and IoT technology into new and existing products and services.
"It's great to know we're attracting these companies to Liverpool City Region as opposed to the likes of London and Manchester – we're truly moving up the ranks of what is considered a leading global hub for innovative technology."
Sensor City also offers technical and academic support to larger businesses that are keen to uncover additional routes to market through collaboration with those at the forefront of technical innovation.
The Defence and Security Accelerator (DASA), for example, has recently established a regional outreach team and the newly-appointed North West innovation partner, Jonathan Jones, is now based in Sensor City.
DASA finds and funds exploitable innovations or ideas that could shape the future of defence and security in the UK.
The company works with those interested in helping the UK's defence and security work better and faster, be more efficient and safer, and Sensor City's connected community is helping to facilitate this further.
Additionally, both Unilever and EDF Energy have also taken up hot desks in Sensor City following their recent challenge events with the Innovation Centre.
As a joint venture between Liverpool John Moores University and the University of Liverpool, Sensor City is a global hub that works with hi-tech businesses on new systems and applications using sensor technology and the IoT.