Developers join forces to bring state-of-the-art housing to Wirral Waters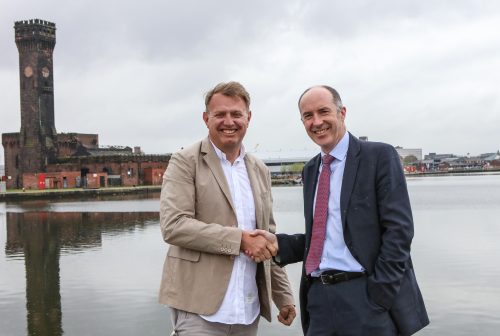 Two of the North West's biggest and most innovative developers, Peel Land and Property (Peel L&P) and Urban Splash, have agreed a joint venture to bring modular urban living to Wirral Waters, the UK's largest regeneration project by consented floorspace.
Contracts have now been exchanged on the £55m development, which will be the first collaboration between Peel L&P and Urban Splash.
The legal advisers on the deal were Eversheds and Hill Dickinson.
The waterside residential quarter at Wirral Waters will incorporate 347 modular homes.
The quarter will introduce four new and exciting housing products to the Wirral including House, Mansion House, Villa and Fab House, with each property customised by purchasers before being created offsite in the Urban Splash modular factory and then delivered to site.
Richard Mawdsley, director of development at Peel L&P, said: "Our new joint venture with Urban Splash is fantastic news for our local community bringing the very latest in housing design and innovation to the site.
"This development, which follows hot on the heels of our announcement last month about a £90m residential scheme comprising of 500 high-quality homes along Northbank, will transform the site into an internationally-recognised destination with a residential quarter that will take the pressure off local greenbelts and help to tackle the current UK housing crisis.
"We're now just waiting on the final piece of the jigsaw, securing a Housing Infrastructure Fund grant from Homes England.
"Only then can we finally get the first wave of housing under way at Wirral Waters."
The development will bring Urban Splash's modular concept of factory-built modular homes to Merseyside for the first time.
The company has other sites in Birmingham – where homes are currently on sale – Manchester, Salford and North Shields, where 10 of the homes have been designed by TV architect George Clarke.
A fifth site is planned at New Islington in Manchester for 2019, with future sites also in the pipeline in Milton Keynes and Walsall.
Jonathan Falkingham, founder and creative director at Urban Splash, said: "This is another part of our ambitious plan to expand our modular housing business and follows our acquisition of the House factory earlier this year.
"We are keen to create well-designed, urban family homes in more cities across the country.
Merseyside, which was the birthplace of Urban Splash 25 years ago, seems the perfect place to move forward.
"We are delighted to be working with Peel L&P and to be involved in the creation of yet another significant, large-scale community and to continue developing and investing in Merseyside."
Cllr Phil Davies, leader of Wirral Council, said: "Almost every week we are seeing new developments come forward – new homes, retail and commercial schemes are being planned in every corner of our borough.
"These developments are concrete proof of the huge confidence in Wirral and the Liverpool City Region as a place to invest and do business.
"This latest news from Wirral Waters, coming so soon after the recent announcements of new residential, care and office developments on the site, is further proof of Wirral's growing importance in the Northern Powerhouse."
He added: "Combined with our own plans for development through Wirral Growth Company, it is clear that it is an exciting time for Wirral."