Office block open for business after £750,000 investment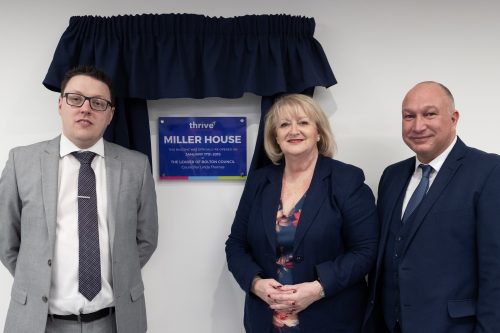 A new serviced office building has opened in Farnworth following a £750,000 investment.
Miller House in Market Street features 37 office suites and was formally opened by Linda Thomas, the leader of Bolton Council.
The 16,000 sq ft Miller House has been turned into a contemporary Thrive office centre, featuring state-of-the-art facilities, including meeting rooms equipped with the latest technology including Skype and conferencing facilities, high speed broadband, WIFI, modern break-out areas and an on-site gym.
Miller House is located in Farnworth town centre, which is included in the Greater Manchester Mayor's Town Centre Challenge – the new initiative to help breathe new life into areas across the region.
Linda Thomas said: "I am delighted to welcome Thrive to Farnworth and to see Miller House, which has been empty for some time, being brought back to life.
"We are developing a new masterplan for the Farnworth area that will focus on both the place and its people.
"We are looking for innovative solutions from investors that will assist with regenerating the area to benefit local people. Miller House fits with this and we hope that it will encourage others to take a similar approach."
Miller House has excellent transport links connecting it to key destinations in the North West with the M60 being just minutes away, Farnworth train station is within walking distance and Bolton train station is less than three miles away.
The new office space forms part of the Thrive network, which also has operations in Wigan, Widnes, Warrington and Newton-le-Willows.
Matthew Settle, managing director of Thrive said: "Miller House offers fantastic office suites and modern and vibrant communal areas and facilities, enhancing the working experience and giving our customers an impressive space to host their clients.
"Our occupiers benefit from automatic membership to Club Thrive, which allows them to use our facilities at other locations as well as connecting to other Club Thrive members.
"We have plans to open at several other locations in the region including Bury, Blackburn, Oldham and Cheadle, as well as having operations in Blackpool, South Yorkshire and the North East in the pipeline."