Executive high fliers get the chance to view business jet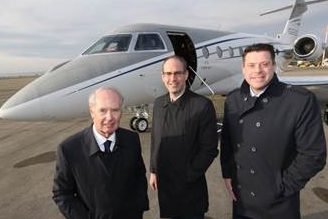 XLR Executive Jet Centre Liverpool has hosted an event at Liverpool John Lennon Airport (LJLA) to showcase the Gulfstream G280 super-midsize business jet aircraft to potential users.
This class-leading aircraft has a range in excess of 4,000 miles with the capability of flying non-stop from the UK to New York.
This week's event was the first time this aircraft type has visited the North West.
The event was also an opportunity for XLR, which is the premium travel brand and subsidiary of Rigby Group plc, to promote their new state-of-the-art executive jet centre which opened last year at Liverpool John Lennon Airport.
John Irving, LJLA chief executive, said: "We are delighted to see XLR host this event at the airport and to see this fantastic business jet here in the North West for the first time."
XLR director Chris Beer said: "We were thrilled that Gulfstream chose XLR at Liverpool John Lennon to host their prestigious event.
"It was excellent to see brokers and local clients being able to see the aircraft up close and personal and to be part of the UK tour."