People on the Move: Yorkshire Bank; Think Legal Recruitment; NYAS; Thornton Hall Hotel; Apadmi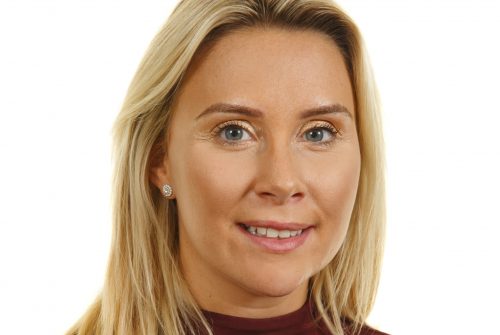 Yorkshire Bank has hired Sarah Hewitt as a commercial relationship manager, based in the North West, in its latest series of appointments across the country.
This hire forms part of parent group Clydesdale and Yorkshire Bank's continued commitment to supporting SMEs ahead of the RBS Switching Scheme, due to launch this month.
The scheme aims to increase competition in the SME market by offering eligible RBS customers incentivised deals and rewards to switch their bank account to another provider.
Yorkshire Bank will play an active part in the scheme, building on its existing sector experience and helping to deliver increased competition in SME banking.
Sarah, who joined Yorkshire Bank in late 2018, has extensive banking experience having spent nine years at RBS, as well as three years at HSBC. Over the coming months she will be focused on working with professionals and customers to offer innovative banking solutions.
She said: "CYBG aims to offer the best service in UK banking and it continues to grow, invest and develop its products, services and people, with the recently launched B Store in Manchester a fantastic example of 'thinking outside of the Bank' and creating a workspace that we are all proud of."
Sarah is based in the new B Works store in Market Street, but her remit covers the entire North West.
Ian Hardman, head of business development, commercial banking at CYBG, said: "As the RBS Switching Scheme approaches we're committed to having the right team in place as we look to grow our SME market share. Sarah brings with her a wealth of experience in commercial banking across an array of roles in relationship management, credit & risk management and area management. Her expertise will be invaluable to us and help provide the best possible support for businesses wanting to switch to our Bank."
::
Following strong sales growth in 2018, in which turnover increased by more than 33%, Manchester-based Think Legal Recruitment is expanding with the addition of experienced consultant Adam Zdravkovic to lead its in-house legal recruitment practice.
Zdravkovic, who joins as an associate director with eight years' legal recruitment experience, has focused on working with companies looking to build in-house legal capabilities over a number of years and has led teams on both a local and national level.
The move comes as part of Think Legal Recruitment's drive to build on its success and reputation to date, with strategic growth in key markets.
Directors Joe Gregory and Paul Warburton said: "The recruitment of Adam highlights our ambition to recruit the best available talent in line with our core values and strategic priorities. We are excited to have Adam on board and know he will be a great addition to our team."
Zdravkovic said: "I am excited to link up with Joe and Paul at Think Legal Recruitment. They share my passion for delivering a high quality legal recruitment service which is both consultative and personable."
::
Children's rights charity NYAS (National Youth Advocacy Service), which is headquartered in Birkenhead, has announced the appointment of Ben Twomey as its head of policy and research.
The appointment signals a renewed commitment from NYAS to ensure the voices of children and young people in care are heard by key decision-makers in government and the justice system.
Ben is the charity's first head of policy and research and will work closely with NYAS' nationwide network of advocates and legal specialists, along with young people themselves, to promote children's rights in the UK.
Ben brings a wealth of policy and engagement experience to the role. Prior to joining NYAS he was a policy officer for the West Midlands Police and Crime Commissioner and, during his career, has worked with three police commissioners in a variety of policy-related roles, including policy lead for youth engagement in Warwickshire and head of substance misuse policy in the West Midlands and County Durham.
Ben's passion for driving positive change in the criminal justice system led him, at 22, to become the UK's youngest ever candidate to stand in a Police and Crime Commissioner election, with an agenda focused on preventing crime through evidence-based policy.
Rita Waters, NYAS chief executive, said: "We're enormously excited to have Ben on board.
"He has an exceptionally strong background in shaping and promoting policy change, and his policies have been praised by Government ministers, cross-party Parliamentary groups, national treatment agencies and senior police officers.
"Ben's innovative and inclusive research approach will enable NYAS to develop powerful intelligence to influence regulation and legislation in the best interests of vulnerable children and young people."
Ben said: "Throughout my career I have been committed to giving a voice to young people when it comes to the creation of policy that will impact upon their lives.
"NYAS will provide me with an opportunity to continue pushing for the active involvement of children and young people when it comes to policy-making, and I look forward to helping safeguard their rights with an organisation that has been at the forefront of children and young person's advocacy for more than 30 years."
::
The Lawns restaurant at four-silver AA-star Thornton Hall hotel in Wirral has appointed Richard Collingwood as head chef.
He joins the two-AA-rosette restaurant at the 62-bedroom hotel from the Cottage in the Wood restaurant with rooms after two years as head chef.
He said: "In a couple of months' time some of my favourite ingredients will be coming available, wild garlic, forced rhubarb, morels, Jersey royals and asparagus and I'm really looking forward to showcasing them on our menu.
"It's really important to me to create a menu based around seasonality to ensure the best possible flavour in my dishes."
Thornton Hall general manager, Geoff Dale, said: "We're delighted to welcome Richard to the team. He brings a wealth of skills and expertise to our already award-winning restaurant and we're certain he can help retain those accolades and indeed improve on them."
::
Mobile technology company Apadmi is entering the new year with a further 11 recruits on the back of a growing client base.
Trafford Park-based Apadmi continues to nurture talent within the region, hiring new graduate developers, creating an apprenticeship within its marketing team, bolstering its QA team, and bringing on board a finance manager.
Chief executive Garry Partington said: "As part of our continued growth, we've a need to recruit into all parts of our business.
"Solutions for our clients are becoming more complex and tightly integrated to their business as a whole. We've boosted our technical team, our quality assurance department, and as a result we're able to take on more clients with ever-challenging projects, pushing the boundaries of what's possible with technology."
He added: "We're fast-approaching our 10th year of business and it's looking like an exciting year ahead with more work with existing clients like Argos, United Utilities and the Co-op, and new wins including Charles Stanley, Sail GP and some we can't talk about just yet.
"To be able to deliver more projects for a growing client base we need to expand our brilliant team to do it – these new recruits do exactly that."
The team is already looking forward to welcoming three interns in the Summer, as part of its 12-month university placement scheme. It is also currently recruiting for a further nine vacancies, including a further five internships.