People on the Move: Clough & Willis; Weightmans; MHA Architects; Visualsoft; Hattrick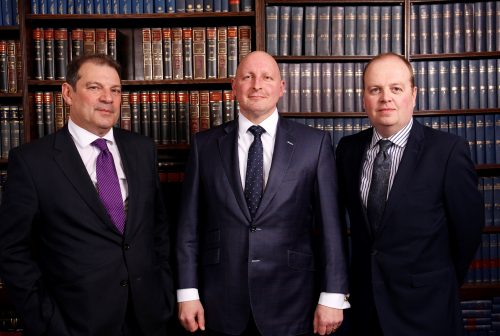 Bury and Bolton-based law firm Clough & Willis has grown its commercial property team following the appointment of Andrew Palmer as a senior associate.
Andrew, who joins Clough & Willis from Bermans, will be working alongside David Leviten – partner and head of the department.
His role will encompass the complete range of commercial property services the firm offers, including sales and purchases of land and property, development work, as well as landlord and tenant cases. He will also advise clients on specialist lending.
Andrew has worked in the commercial property sector for 32 years, including 19 years in private practice.
He has also held positions at Eversheds and Halliwells.
David Leviten said: "Demand for our commercial property services has got stronger and stronger, so Andrew's appointment is great news for the firm.
"He brings a wealth of talent and experience that will help to both service the needs of existing clients and grow our client base."
Andrew said: "Clough & Willis is a fantastic firm and I'm now looking forward to adding value and helping the team to grow."
::
National law firm Weightmans has appointed a leading private client specialist to lead the wills, trust and estates team in Liverpool.
John-Paul Dennis advises on all tax planning, trust, wills and probate matters for a wide range of clients.
Formerley partner at Kirwans in Liverpool, John-Paul has more than 14 years of experience in providing guidance to business owners and high net worth individuals on succession planning, lifetime and post-death tax planning.
He also brings experience of working with the Court of Protection and the Office of the Public Guardian and is a registered member of the National Association of Solicitors for the Elderly, as well as a professional trustee for various family trusts.
He said: "Weightmans is known for helping clients navigate complex personal and commercial matters with care.
"For many clients their business and the demands that go with it is their priority – so helping them take care of this business and their family assets is mine. I am delighted to have joined a firm which shares this outlook."
He added: "I look forward to working with my colleagues across the firm to further grow the team in Merseyside and the wider North West region."
Carole Atkinson, partner and head of private client, said: "Good estate planning is essential for positive financial health and overall peace of mind – and trust in your advisor is key.
"At Weightmans we pride ourselves on our strong client relationships and John-Paul's reputation in customer care is second to none. We are delighted to welcome him to the team."
::
MHA Architects, the Manchester-based architectural practice, has announced four new promotions.
Lee Moss, Hilary Garrett and Gavin Welch have been promoted to associate director and Anas Elakkari moves up into a senior architect position.
Moss joined the practice as a day-release student from college and has been with the practice for 13 years. He qualified in 2017 and specialises in both the leisure and residential sectors, with a particular focus on refurbishment.
He also has a mentoring role to students at The Manchester School of Architecture and fulfils the role of guest reviewer at The University of Huddersfield.
Garrett joined in 2015 and leads the practice's business development team, focusing on building relationships with clients and intermediaries, sourcing new opportunities and developing the practice's strategic vision.
Welch has worked from the practice's Sheffield office for five years and is currently delivering numerous affordable housing schemes nationwide, as well as having responsibility for the practice's BIM protocol.
Jimmy Lennon, director at MHA, said: "These promotions are well-deserved and recognise the abilities and standing each one of them has within the practice.
"Their hard work and dedication has provided valuable support to our clients and to the practice. Their achievements are testament to our commitment to developing our people and providing them with the opportunities to reach their true potential."
::
Manchester-based e-commerce and digital agency, Visualsoft, has appointed a new head of IT and security to its growing team.
In his new role, Lee Blackwell will help to enhance the security of Visualsoft's eCommerce platform software for retailers, enhancing the infrastructure to scale up and out. In addition, he will introduce greater automation to drive reliability and resilience.
Having previously worked at Avid Technology as a global IT operations and systems manager, Lee brings a wealth of relevant experience to the role.
He joins Visualsoft's team of more than 300 staff who specialise in the design, build, support and marketing of online stores for retailers across the UK.
Charles Clinkard, Little Mistress and The Lakes Distillery are among the brands on the business' ever-growing client list.
Lee said: "I look forward to seizing this opportunity to make a positive difference at Visualsoft.
"Security is a vital facet of modern-day online retail, so I'll be taking our infrastructure to the next level with the development and IT operations teams."
Neil Innes, chief technology officer, said: "The nature of our business means security is of the utmost importance to both ourselves and our clients.
"Online security has always been a top priority for eCommerce and m-commerce retailers. After recent cyber attacks and data breaches, such as Dixons Carphone Warehouse, we want to ensure our clients have the best security solutions in place to protect their brand reputation.
"We're thrilled to have Lee on board to grow this department further, and further bolster our security processes."
::
Hattrick, the Manchester-based content marketing agency, has bolstered its team with three new appointments as part of its long term growth strategy.
Jessica Matthewman has been appointed head of innovation and development, a strategic role within the senior management team that focuses on the development of Hattrick's service offering.
Matthewman joins the team following two years as head of social media at Hilti and previous roles at Tangerine and Brazen.
Hayley Jordan joins the Hattrick account handling team as senior client services manager from video platform start-up, Wipster, and Joe Sanders has been appointed digital outreach manager following two years at digital agency Cantarus.
Managing director, Malin Cunningham, said: "Jessica, Hayley and Joe each bring valuable skills and insights to the Hattrick team, complementing our thought leadership-driven approach to content marketing.
"As the agency moves towards a specialised offering for the built environment, I'm confident that these new appointments will support our ambitious growth plans."
Ahead of National Apprenticeship week this week, Hattrick is also looking to take on its first apprentice.
In the junior content producer role, the new apprentice will gain practical experience on how to plan, create and implement content strategies, while also studying toward a Level 3 apprenticeship standard.
Hattrick provides B2B content marketing services across PR, digital and social media to businesses. Its client roster includes Tarkett, Certas Energy and GCP.