Vodafone switches on 5G in Liverpool as part of UK-wide trial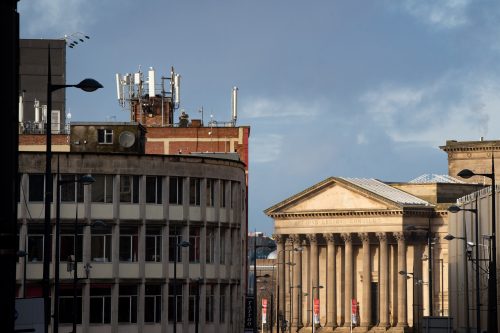 Phone giant Vodafone says it is the first company to switch on 5G in Liverpool as part of its UK-wide trial of the new, faster mobile technology.
Using a 5G router, the group is now streaming videos, games and internet content at high speed across its 5G mobile network from a number of locations, including the city centre and the waterfront.
5G will enable customers on the move to load a web page within a blink of an eye and stream a movie without buffering.
4K gaming on the move and 3D holographic calls – a technology Vodafone has already successfully tested – are also possible with 5G.
Vodafone is testing the new technology prior to the arrival of compatible handsets and devices later this year.
All sites are connected to its multi-billion-pound single optical fibre converged network, which is already providing customers in the city with fast 4G mobile, home broadband, Internet of Things (IOT) technology and business services.
Vodafone UK's chief technology officer, Scott Petty, said: "5G will give our customers in Liverpool much faster mobile speeds, even in busy areas.
"Once 5G phones arrive, our network will be ready. You will be able to download a video or movie extremely quickly and you won't need to waste time searching for a reliable WiFi connection."
5G promises device speeds around 10 times faster than 4G, meaning high quality 4K video calls and downloads will be delivered even quicker to smartphones and tablets.
Data transfer of less than 20 milliseconds will be standard, which is great news for mobile users, like gamers, who, up until now, have had to rely on home broadband when playing online.
In October last year Vodafone said it became the first company in the UK to carry full 5G over a commercial network when live mobile data traffic was streamed to and from the internet exclusively over 5G from a site in Salford, Greater Manchester, connected to Vodafone's nationwide converged fibre network.
Last month the telecoms giant switched on 5G at Manchester Airport, in a 'blast pod, which allowed holidaymakers and travellers getting ready for the half-term getaway to test the new, super-fast network by downloading a film or TV box set using 5G.
Manchester Airport was the first of several travel hot-spots where Vodafone is trialling 5G.