Developer presses pause button after 'bucket fountain' backlash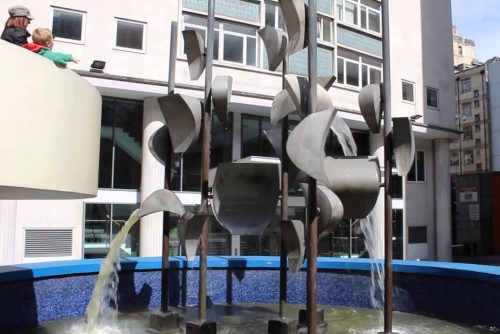 A developer has paused its £15m hotel proposals after a backlash over relocating a unique fountain.
Liverpool-based Elliot Group has asked Liverpool City Council not to register its planning submission for the redevelopment of Beetham Plaza until a Heritage England assessment of the square's famous 'bucket fountain' is complete.
It unveiled its scheme on April 9, with plans to move Richard Huws's famous 'bucket fountain' – claimed to be the last of its type in the world – to a new location.
But opposition to the proposals soon gathered pace on social media.
The move to delay proceedings, says Elliot Group director Elliot Lawless, is to allow due process to be followed 'unhindered' while Heritage England decide whether or not to list the structure as being of special merit.
The developer is considering refurbishing and re-siting the fountain in a more prominent location at its own expense.
It wants to develop a new hotel, with the creation of 25 new jobs, in Beetham Plaza.
If listing is approved then Elliot Group has the option of submitting supplementary documentation in support of the fountain's re-siting prior to the planning application's formal registration.
"We're proud to own such a wonderful piece of Liverpool heritage and we've been clear that we want to ensure it continues to entertain and delight locals and visitors alike," said Mr Lawless.
"Our issue has always been that it's tucked away. We'd like it to become a 'must Instagram' attraction for the city, but more seagulls find it each day than tourists and residents. If we were to re-site it then more people could enjoy its wonderful engineering."
Regarding the possible impact of a listing, he said: "In many ways we'd be pleased as it proves what a unique and special piece of sculpture it is.
"Beetham Plaza was the designer's fourth choice location and we'd argue it deserves to be somewhere more prominent, as was the original intention.
"Listing doesn't preclude an item from being moved and we'd still consider pursuing this as we think it's the best way of securing the fountain's complete refurbishment whilst making it a more visible asset for the city."
The fountain was commissioned from sculptor Richard Huws in 1962 by Merseyside Civic Society to commemorate the start of the controversial Tryweryn Water Scheme, which was to provide drinking water to Liverpool, but which led to the displacement of a Welsh-speaking community.
Seventy residents lost their homes, livelihoods and places of worship prior to the flooding of their village, Capel Celyn. The scheme opened in May 1965.
The original home for the fountain was intended to be at the junction of Bold Street and Hanover Street, but this was rejected by planners.
Two further sites were rejected before developers Thames Estates and Investments offered the newly-created plaza to the rear of a new office development on Goree as home.
The fountain was officially opened on May 2, 1967 by the city's Lord Mayor, Alderman Herbert Allen.