People on the Move: Napthens; Biorelate; EG Group; EY; Fat Media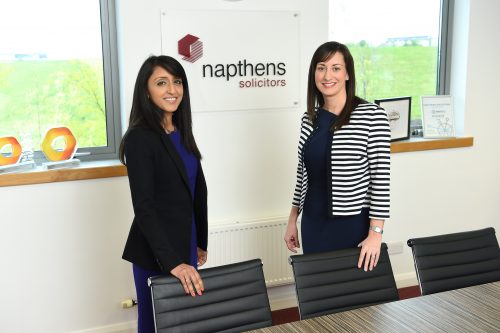 A senior associate solicitor in the employment & HR team at regional law firm Napthens has been promoted to partner.
Claire Haworth joined the firm in 2013 and since then has played a leading role in helping develop the team's fixed cost employment law solution, HR3.
Based at the firm's East Lancashire office in Blackburn, Claire is a member of the Employment Lawyers Association, and advises employers from a variety of sectors on all aspects of employment law and HR issues.
Claire, of Bury, Lancashire, represents a broad range of businesses across a variety of industry sectors and has particular experience in dealing with disciplinary and grievance matters, under-performance issues and restructuring and redundancy processes. She is the founder of the Enterprising Women Lunch Forum in East Lancashire.
Shru Morris, Napthens chief executive, said: "Claire has worked hard over the past few years to offer clients an exemplary service, and to communicate the firm's offering in the region.
"This promotion is well-deserved and a recognition of her contribution to our business. As a partner she will play an important role in Napthens' future growth strategy."
The news comes as a number of Claire's colleagues also receive promotions: Charlotte Nuttall to senior associate solicitor and Anthony Fox to associate solicitor, both in the employment & HR team; and Nicola Ciraolo to associate solicitor in the commercial property team.
::
Biorelate, the Manchester-based knowledge curation company, has appointed Dr Kevin Cox as chairman.
This will strengthen the company as it expands its products and services in life science R&D.
Biorelate curates knowledge using its cognitive computing platform, Galactic AI, to help advance the world's most promising biomedical innovations.
The company ensures researchers are working from the best understanding of all of the existing scientific data locked away in text.
Galactic AI powers biomedical data science activities in target validation as well as knowledge curation and market intelligence.
Dr Dan Jamieson, chief executive and founder of Biorelate, said: "Developing new therapeutics is continually becoming more challenging and expensive. As such, the demand for proven AI applications to remedy this trend is growing ever stronger.
"As one of the few start-ups that have surpassed proof of concept in this space it's absolutely pivotal that Biorelate are now reaching those we can help the most. With Kevin's connections, credibility and track record I believe we have gained a key advocate in helping us deliver our mission."
Dr Cox said: "I have been very impressed with the technology developed by Dan and his team. Their energy and creativity have already led to significant commercial success, validating the applications of Galactic AI and ensuring the company is poised for significant growth. I look forward to growing this business together."
::
EG Group, trading as Euro Garages, has further strengthened its UK property team with the hiring of Greg Fee, who will join the property acquisition team, growing the acquisition team total to six people.
Greg joins EG Group from the amalgamated MRH business and will have principle responsibility for property acquisitions and development opportunities in the Merseyside, Lancashire and Yorkshire areas.
Reporting to UK property director David Myers, Fee will be largely field-based across the extent of the M62 corridor.
On Fee's appointment David Myers said: "It is a sign of our group's intent to bolster our property acquisition team when other companies appear to be retracting in the UK market. Our appetite for new property development opportunities remains strong across a region we feel very comfortable operating in.
"Greg has a diverse career history which will complement our team, and crucially first-hand experience of operating and working within the fuel retail sector. This appointment is a commitment to the UK market in a territory of strategic importance to EG. We are delighted to welcome him on board."
Based in Blackburn, Euro Garages was founded in 2001 with the acquisition of a single petrol filling station in Bury, Greater Manchester.
Since then, Euro Garages has established itself as one of the UK's fastest growing and most recognisable forecourt operators, with an expanding portfolio of around 3,800 sites located throughout mainland UK. In 2018, the company gained 35 new-to-industry planning approvals.
::
EY has appointed a new director in its Manchester restructuring team, as it continues to grow its regional transactions business.
Sam Mills will be responsible for growing EY's restructuring, refinancing and turnaround work for corporate clients.
He joins from PwC, where he supported private businesses and larger corporates with situations of change, transition and financial difficulty over a 10-year period.
He has undertaken several secondments and has also held finance positions in industry.
Sam, originally from Warrington, studied English Literature at university before qualifying as an accountant. He returned to the North West with his wife and two children several years ago, after living in London for five years.
Sam's arrival follows the appointment of Ben Wildsmith as partner in the Manchester transaction advisory services (TAS) team in September, when he returned to EY from private equity firm Northedge Capital to focus on mid-market corporates and private equity backed businesses.
Ben Wildsmith said: "We are really proud of the restructuring and turnaround work that we are winning, both nationally and locally, in the North West market.
"The work is increasingly varied, it requires a broader skill-set and a more experienced team to deliver the work than it has historically.
"Sam brings a particular focus on corporate work and adds further strength and depth to our team as we continue to invest in our transactional business."
Sam said: "I am delighted to be joining the EY team in Manchester. It was a very easy decision to make because EY has demonstrated consistent investment in the regional business and built a market-leading restructuring practice.
"I am already seeing new and exciting client engagements and I look forward to meeting and working with clients and the team in the coming months."
Sam Woodward, partner and national markets leader for TAS, said: "It is great that we continue to attract such talent into the team and continue to grow and invest in our regional businesses. EY is exceptionally well placed to service the vast spread of clients from smaller private businesses to global accounts here in the North."
::
Lancaster-based agency, Fat Media, has made a new appointment to the senior team.
The award-winning firm has appointed David Lillington as their new director of strategy and digital marketing, and he will be working across the whole of the Fat Media group of companies.
David joins with more than 14 years' strategic business development experience. His previous role was director of client partnerships at Microserve, where he helped shape the strategic direction of the agency and really drove growth for the business during his time there.
David Durnford, chief executive of the Fat Media Group, said: "We are really pleased to welcome David to the team. He will play a pivotal role in shaping the strategic direction of not just Fat Media also our sister company, RONIN International.
"He has some fantastic credentials and I'm looking forward to working with him closely to help drive continued success for the group."
David Lillington's appointment comes on the back of a period of incredible growth for Fat Media this year, with the agency winning a host of new projects and working with international brands, including Warburtons, Lakeland, Typhoo and Royal Mail Market Reach.
Mr Lillington said: "After hearing about Fat Media's expansion and acquisition of agencies, like Reading Room and market research companies like RONIN, I really wanted to be part of Fat Media's expansion, and also play a role in shaping its future direction.
"It's fantastic to now be part of the team at such an exciting period. The group offers a highly compelling offer for the market, with so much expertise under one roof and there's a huge potential for growth in the coming years."