Regeneration of Grade II-listed mill into 98 apartments under way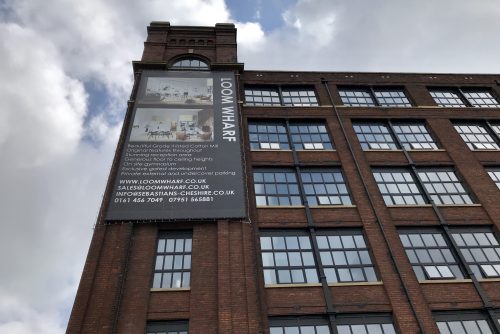 A £13m regeneration project to turn an old cotton mill along the north bank of the Bridgewater Canal in Leigh town centre into 98 luxury loft-style apartments is under way.
Built in 1882, the Grade II-listed, six-storey mill on Mather Lane has stood empty for 20 years.
Now, J P McGuire Developments is converting it into 98 one-, two- and three-bedroom apartments, complete with large reception area, gymnasium, secure parking and bicycle storage.
The exclusive gated development will also have a private cinema and large dining room that residents can hire.
All apartments boast high ceilings and generous floor plans, with one-bedroom apartments covering up to 74m² and the biggest apartment covering 165m².
They benefit from large windows with views towards Manchester city centre, Rivington Pike or the Peak District, and some include private balconies.
And all apartments have original features and high-quality fit-outs. Prices start at £78,000 for a one-bedroom apartment.
Jonathan Twentyman, managing director of JP McGuire Developments, grew up in Leigh and has built his business – electrical contractor GENLEC – in the town centre.
He said: "From when I went to the primary school around the corner to starting my own business in the mill opposite, this building has been the backdrop to my life. Now, I get to give it a new lease of life with this regeneration project.
"Leigh has already benefited recently from the new busway, which means you can get into the city centre in less than half an hour, and with more investment planned for the town, plus private developments like Loom Wharf, it's an exciting time for the area."
The reception and communal areas, designed by interior design studio No Chintz, along with three showroom apartments, are expected to be complete this July.
The rest of the project is scheduled to complete by the end of the year and 21 apartments have already sold.
Mr Twentyman added: "My aim with Loom Wharf is to make luxury, quality living affordable and accessible to more people.
"We're not just ticking boxes and getting away with the minimum standards with this property development. From installing the best soundproofing between walls and floors and state-of-the-art ventilation systems to keep air clean and purified, to adding modern fittings and features, we're making every effort to make these homes as comfortable and stylish as possible."