Work starts on Bruntwood Works' Manchester mural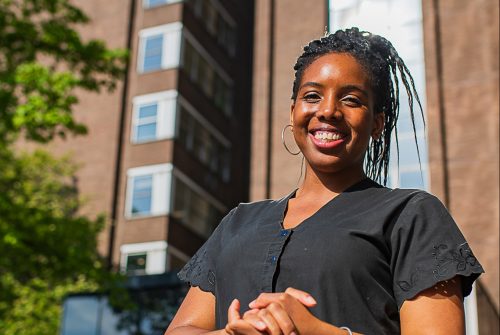 Work has started on a huge mural which will transform one of Manchester's key landmarks – brightening the journeys of thousands of commuters.
Trafford House, in Greater Manchester, which is owned by regional property developer Bruntwood Works, will be the canvas for one of the UK's biggest permanent murals – celebrating the centenary of the female vote.
The massive 38-metre high artwork will be a bright, bold celebration of the 2018 centenary of female suffrage. It will commemorate the work of the suffragette movement, which has strong ties to the local area as Sylvia Pankhurst was born metres from Trafford House.
Bruntwood Works held a global competition to select the artist to curate a mural and received entries from more than 50 artists from as far away as Brazil.
The judging was anonymous and local artist Venessa Scott in partnership with the community organisation, Gorgeous Gorse Hill, was selected for the commission by a judging panel which included the BBC's director of the North and children, Alice Webb, the Dean of Manchester School of Art, Penny Macbeth, and Bruntwood's director of culture, Kate Vokes.
Venessa's intricate mural is inspired by the area's Pankhurst legacy, the suffragette colours, and the collaborative community in the Gorse Hill area. She will be working from a suspended cradle for three to four weeks as the artwork comes to life.
Kate Vokes said: "It's extremely exciting to have work on the mural starting. Creating spaces which inspire and enliven communities is an important aspect of our vision, the arts are a key part of that.
"We're thrilled to be working with Venessa on this project, which will provide an injection of creativity and tell a compelling story that will inspire and galvanise those who see it.
"It's clear that this was a commission which really resonated deeply with her. Her design is bold, inspiring and engaging – we're looking forward to adding this piece to our art collection."
The bright and beautiful piece will be situated on the East-facing end of Trafford House, on the major arterial route of Chester Road and Manchester city centre. Trafford House also overlooks the pedestrian route between Old Trafford tram stop and Manchester United's Old Trafford football ground.
Venessa Scott said: "It's wonderful to have started work on the mural and I can't wait to see the design start to take shape on this huge urban canvas. It's been brilliant working with the Bruntwood Works team in the lead up to this point and I'm really looking forward to continuing our collaboration as we bring this creation to life.
"This is a piece of work I hope will bring a burst of colour to the local landscape and make people smile and then on closer observation, draw observers in to the deeper story of Sylvia Pankhurst and the enthralling history of the local community which it illustrates."