People on the Move: TWA Marketing; TLT; Forbes; SeaKing Electrical; Wates Construction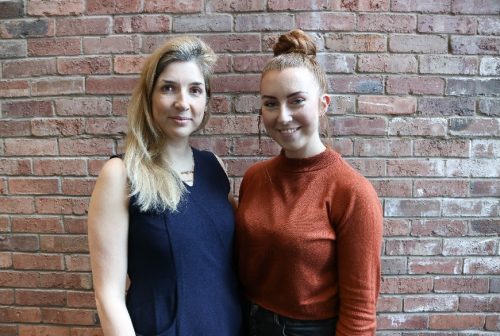 A new chapter has begun for Lancashire agency TWA marketing as it shakes off its former moniker The Write Angle amid sweeping changes from the top down.
The rebranded marketing and communications company's recent shift in leadership has seen two new directors, Sally Mackrill and Jenny Woolley, taking the helm.
The integrated agency, housed in new offices in Tarleton, Lancashire, provides companies with a full service offering across digital marketing, PR, internal communications and stakeholder engagement, available as an under-one-roof solution delivering on all company requirements or as an additional resource to support an established in-house team.
With directors Sally and Jenny now the agency's top brass, TWA's list of clients is rapidly expanding, and represents a wide range of sectors including property, construction, professional services, recruitment and manufacturing.
A marcomms specialist with nearly two decades' industry experience, Sally Mackrill spent her early career working in renowned agencies based in London, Sydney and Manchester, originally joining The Write Angle as associate director before moving to the agency's top post.
Sally has handled marketing and PR for consumer, corporate and public sector clients, working with world-class enterprises and household names including Aldi, Marriott, Specsavers, Bacardi-Martini and many more.
Alongside Sally is partner Jenny Woolley, a senior-level marketer with extensive experience creating and delivering online and offline B2B and B2C campaigns that cover brand, digital, PR, print, social and web.
Jenny oversees several lynchpin clients and is instrumental in organic client growth.
Sally Mackrill said: "The time was ripe for a total rebrand and fresh approach – and we're thrilled to be housed in new offices, with a new look and website. We look forward to leading the TWA marketing team as we grow our body of clients."
Jenny Woolley said: "As we embark on this new chapter, we are committed to delivering something unique to the market."
::
TLT has appointed Sean McCay, a 'leading individual' in the industry's independent 'Legal 500' listings, as partner to lead the construction team in its growing Manchester office. McCay joins from Squire Patton Boggs.
McCay has considerable litigation experience and is an expert in adjudication and arbitration.
He is well regarded for his exceptional strategic thinking and the insight he gives clients in the resolution of disputes in the construction sector.
At TLT McCay will lead the development of the projects, infrastructure and construction team in Manchester, supporting clients across multiple sectors including real estate, public sector and clean energy, working with contractors, developers and public authorities.
Graeme Orchison, Manchester office location head at TLT, says: "We are delighted to welcome Sean to our Manchester office, which we've grown to a full-service commercial offering in just six years.
"Sean's appointment demonstrates the exceptional talent we are able to attract through the high quality work delivered by our team to our clients."
Simon Goss, head of construction at TLT, said: "Sean is bringing almost 30 years' experience to the team and is widely considered to be the first choice construction disputes lawyer in the region. His skills and experience will further enhance our service offering and help us deliver a first rate service to our clients."
Sean McCay said: "I'm very pleased to be joining TLT and share their commitment to developing a first class construction offering in Manchester, building on the strength of the current UK-wide offering. I'm looking forward to helping achieve TLT's ambitions by bringing my extensive experience and expertise to the team."
TLT has offices in Belfast, Bristol, Edinburgh, Glasgow, London and Manchester.
::
Forbes Solicitors has appointed Michael Chambers as partner and head of its growing dispute resolution team.
The team has also been boosted by the arrival of Laura Hallett Lea as an associate, Jordan Davies as a solicitor, Andrew Wilkinson as a paralegal and Sophie Jackson as a trainee paralegal.
Michael qualified in 2006 and specialises in commercial dispute resolution dealing with a broad range of litigation arising from contractual disputes, shareholder and partnership issues along with personal and corporate insolvency and property litigation.
Prior to joining Forbes he spent eight years at an international law firm working for a wide range of large clients.
Laura, who is a member of the Property Litigation Association, specialises in property litigation with core areas of expertise in lease renewals, dilapidations, boundary disputes, breaches of lease including forfeiture, residential landlord and tenant matters, enfranchisement and leasehold disputes, service charge disputes, consent to assign disputes and agricultural tenancy disputes.
Jordan handles a wide variety of civil litigation matters, with a particular focus on property litigation. She also has experience in residential property, commercial property, debt recovery and securitisation work.
Michael, who is based in Forbes' Central Lancashire office, said: "I am delighted to have been appointed to lead such a dedicated and enthusiastic team, which has such a great reputation in what is a rapidly growing sector."
::
Birkenhead-based maritime engineering company SeaKing Electrical is announcing a strengthening of its senior management team with the appointment of a new managing director, Neil Watson, and the promotion of Mark Gillam to operations director and Rachel Downey to finance director.
Mr Watson joins SeaKing after spending more than two decades in senior management and managing director roles in industry.
The move will see company founder Dave Gillam move from managing director to chairman, supported by current board members Chris Dahill, Eric King and Martin Sealeaf.
Dave Gillam said the time is right to bolster SeaKing's infrastructure to drive the company forward to ensure it continues to adapt to meet changing customer requirements.
"We're very pleased to welcome Neil to our team and promote Mark and Rachel," he said.
"The last 10 years has seen SeaKing grow into one of the best-known electrical engineering companies in the maritime industry with an £8m turnover and more than 100 engineers and office staff.
"But we want to look to the future now and invest in talented people to take SeaKing to the next level."
He added: "SeaKing has a clear strategy for growth in the naval, commercial marine and superyacht sectors at home and abroad. There are many opportunities for us but we have to keep pace with industry demands.
"This will be a big part of Neil's role to ensure we continue to move with the times and have the internal systems and accreditations in place which are expected by key clients like Cammell Laird, BAE, Rolls Royce, the UK MoD, Konsberg and the wider industry."
Mr Watson said he is excited about his new role and the strategic vision of SeaKing, seeing huge opportunity to capitalise on Seaking's market position and reputation.
Martin Sealeaf, SeaKing's chief executive, said: "I am confident that the appointment of Mark Gillam and Rachel Downey to the board, both with significant industry and company experience rounds off the new board of directors giving the company the mix of expertise it needs to continually develop and improve its services to meet key customer requirements."
::
Wates Construction has made a move to bolster its position on a range of regional procurement frameworks with the appointment of Sarah Seabright as framework manager.
The move sees Sarah promoted from her previous role as proposals manager for Wates Construction, through which she oversaw all aspects of bid management for projects across the North West.
Sarah now takes up a new remit as framework lead for the business, heading up the delivery of all regional framework projects and their associated commitments. These include local supply chain management and strategies to create training and employment opportunities.
The promotion closely follows Wates' appointment to the North Wales Construction Partnership's major £500m framework adding to the contractor's framework presence across the region.
In January this year this also saw Wates secure places on two lots under the new generation North West Construction Hub (NWCH), marking the contractor's third consecutive appointment to the public sector framework.
Sarah's promotion adds to a series of appointments at Wates, which also included new bid manager, Nicola Atkins, earlier this year and more recently the appointment of David Saville as business unit director for the region.
Sarah said: "I have been with Wates for over 10 years and my time working with the pre-construction team has given me valuable insight into what it takes to make our framework projects successful.
"Procurement frameworks aren't just efficient vehicles for public sector projects, they provide a platform for those projects to create meaningful outcomes for local people."
John Foster, pre-construction director for Wates Construction North West, added: "Wates puts a great emphasis on recognising and promoting the talent within its team and throughout her time with the business Sarah has already ingratiated herself into the business' social value activities for all projects, not just those procured via frameworks.
"Amongst her expertise, Sarah is a passionate ambassador for our industry amongst young people, which will be a fantastic asset in her new role."