Global expansion beckons for North West coaching and development specialist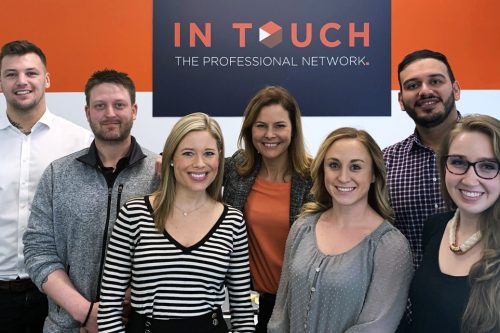 In Touch, a global coaching and development network for elite business professionals, has set its sights on further international expansion after opening its first US office in the city of Chicago.
A new 18-strong, and growing, In Touch team is working from its new office in the heart of the Windy City to showcase the company's acclaimed platform, development services and coaching packages to millions of elite business professionals across the United States.
The Chicago office will become In Touch's central hub for its US operations and is being led by president Naomi Kent, formerly vice president of customer success at New York data analytics firm Shareablee.
Oliver Giles has also relocated to Chicago from In Touch's Manchester headquarters to join their fast-growing sales team.
The Chicago operation now offers millions of US professionals the opportunity to become members of In Touch's leading global coaching and development network, as well as offering additional development services, such as CV writing, LinkedIn profile development, online training and executive coaching.
In Touch, recognised as one of the UK's fastest growing businesses by Deloitte and the Financial Times, has also set up a bespoke website and portal for US executives, enabling prospective clients to browse their acclaimed offerings while active members can utilise exclusive development courses, podcasts, webinars and downloads in the portal.
The US expansion has been led by In Touch chief executive Matthew Roberts, who said: "We've come a long way since our inception in 2013, but this is genuinely one of the most exciting periods for us all at In Touch.
"We're proud to be globally recognised as innovators in Europe, and now we're opening up our membership network, industry-leading development products and executive coaching packages to millions of US executives for the first time.
"It has taken a lot of hard work, but with the strong leadership team we have in Chicago driving this forward it's an exciting time for all of us. The move to Chicago is another step in our plans for growth in the US and across the world."
Naomi Kent added: "As a team, we're focused on bringing In Touch's acclaimed and globally recognised executive education, coaching and mentoring services to ambitious US executives.
"We're passionate about transforming the way businesses recruit and people develop, and can't wait to help thousands of US professionals grow, learn or transition to a new career as a board member with confidence. We've no doubt that this is the start of an incredible journey."
Through In Touch's unique proposition, companies across the US can also recruit senior business professionals to become independent board members and business leaders from its network, free of charge.