First image of Elliot Group's £275m Pall Mall project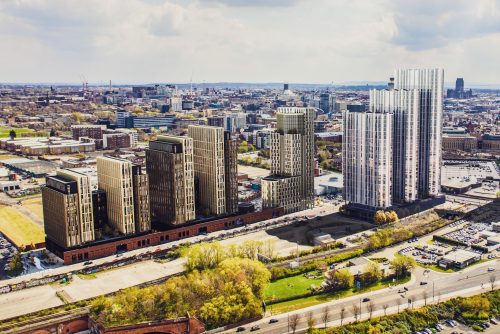 Liverpool-based Elliot Group has revealed a first glimpse of the company's ambitious plans for its 2.6 acre Pall Mall site on the Northern edge of the city's business district.
The overall scheme commands a gross development value of £275m.
The developer has released an image of a 28-storey tower which it hopes will form the centre piece of a mixed-use development, which would include a new luxury hotel alongside residential accommodation.
The proposed scheme, if approved, would include:
Four residential blocks, in pairs, rising in steps from 16- to 18- and then 22- to 24-storeys
A two storey amenity block serving the development, to include a pool, gym and spa
A 28-storey tower with hotel accommodation up to the ninth floor, with residential above
Each pairing of blocks sits on a two-storey podium which will include amenity space, office accommodation and undercroft parking to serve the development
There will be extensive landscaping around the site, as well as roof terraces on each building for residents
The company has revealed that it is in detailed discussions with two separate global hotel brands keen to secure a presence in Liverpool's booming tourism and convention market.
"The site is just a couple of minutes' walk from the new cruise terminal and this has really piqued hoteliers' interest," said Elliot Group director, Elliot Lawless.
"The hoteliers approached us, which has given us confidence to progress that part of our plans in more detail.
"We've not yet decided whether to include any substantial office space in the overall development, but the fact is that Liverpool needs to be able to offer a pipeline to the market if it is to stand a fighting chance of securing any of the footloose requirements out there."
The developer is currently in advanced discussions about its proposals with Liverpool City Council – a process it describes as "constructive and focused" – and says it remains on target to submit a detailed planning application by mid-September.
The company purchased the part-built development from the Landwood Group last year following the failure of developer North Point Global.
P P O'Connor has now completed demolition of the concrete frame left after the developer's collapse.
"Local residents were very understanding of our need to drop the frame promptly and I want to thank them and local councillors for their patience and understanding during that process," said Mr Lawless.
The site is across the road from Elliot Group's 'triple tower' Infinity project, currently on site, and Lawless previously stated that the development will allow his firm to "bring a critical mass of quality to the area which will seal its position as the prime zone for the Northern expansion of the city centre."
The scheme comprises a total of 812 apartments, including 268 in block A, 376 in block B, 168 in Block D, and 256 hotel rooms.
The architect for the new scheme is Falconer Chester Hall in Liverpool. Zerum is acting as planning consultant.