Fit-out firm completes Sky Garden at Leeds' Central Square office building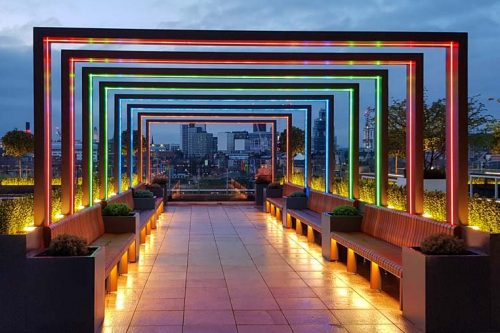 X

Register for free to receive latest news stories direct to your inbox
Register
Construction and fit-out specialist Morris & Spottiswood has completed a seven-week project to create a new Sky Garden overlooking Leeds city centre.
The contract involved transforming a paved roof space on the ninth floor of the Central Square office building on Wellington Street into a flexible break-out and entertainment space with breathtaking views across the city.
Scott Holt, contracts manager with Warrington-based Morris & Spottiswood, said key elements of the project included the installation of bespoke seating, 96 GRP planters featuring LED rope lighting, and a pergola designed to frame the city skyline.
He said: "The building was completed in 2016 and it was always the intention to make full use of the roof space in this way. Capitalising on the superb views it affords across Leeds and beyond was a primary consideration."
In order to maintain the roof space's visual aesthetics, Morris & Spottiswood removed the original paving and laid underfloor cabling between the building's plant room and the lighting positions.
Electrical connections were mounted within IP-rated adaptable boxes, designed to prevent water seeping in, and then concealed out of sight inside the planters.
LEDs were attached to the front of each planter to illuminate the flowers and foliage, and new uplighters installed to pick out the roof's trees and pillars.
Strips of colour-changing LEDs were built into the pillars and crossbeams of the pergola, and additional lights were positioned under the roof's benches to create a glow effect on the floor. Thanks to new power points, a temporary bar can now be installed on the roof for events.
According to Mr Holt, each item of furniture in the Sky Garden is bespoke, including two five metre-long benches that were delivered, transported upstairs and assembled.
Morris & Spottiswood also carried out on-site fabrication to cut down several large tables, before re-welding and re-powder coating them once they were on the roof. A steel track system was designed to sit beneath the planters to ensure water would continue to drain properly off the roof, despite the extra weight.
Mr Holt said: "From the very start of the project we established a close working partnership with our main client contact, Hollis. This made it much simpler to ensure their requirements were taken into account at every stage.
"There were a number of elements we added from a design point of view and that was certainly appreciated by Hollis. They knew a job of this nature would require a greater level of organisation and management, and that's what we were able to deliver."
Spencer Lee, Morris & Spottiswood director-Fitout England, added: "The Sky Garden project represented a unique opportunity in terms of its scope and the challenges it posed.
"Its successful completion underlines the ability of Morris & Spottiswood to deliver complex and ambitious schemes.
"Leeds will continue to attract investment as the Northern Powerhouse initiative gathers pace and projects of this type show we're well placed to capitalise on new opportunities in the city as they arise."