Iconic Northern Quarter office block gets new lease of life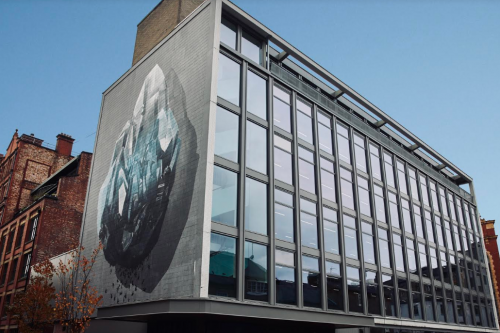 A £3m facelift of one Manchester's most iconic buildings is close to completion.
Hilton House in the Northern Quarter has long been a key part of the city's arts and drama scene.
The 1960s building was the former home of the famous Manchester Polytechnic's drama department. Former students include Steve Coogan, Julie Walters and John Thompson.
It was also used as the film set for the TV series Life on Mars.
Renovation work of the building is due for completion end of November after £3m worth of restoration work has been undertaken by CERT Property to create a new contemporary office space.
The building was designed by renowned architect Richard Seifert.
The property has now been restored to its former glory to honour the building's legacy and celebrate its past.
Before CERT Property – specialists in development consultancy – acquired Hilton House in 2018, the building was left largely untouched housing accountants, bars and healthcare businesses.
The refurbishment of the building by CERT Property has seen the space back at the forefront of culture and influence in the neighbourhood.
The building was constructed in the late 1960s for the drama and lighting department of Manchester Polytechnic, before becoming home to various creative projects from street art campaigns to the film set of Life On Mars.
Once an integral building in the history of arts and culture in the North it now offers new office space.
The contemporary office space facilities include, the fastest broadband in the city at 10GB broadband, concierge, 24/7 access, as each tenant is provided with an electronic key fob personally coded to their suite.
Hilton House will offer a host of benefits to deliver a creative space and wellness hub for all of its tenants, with its very own onsite art gallery and gym.
Howard Lord, managing director of CERT Property, said: "The restoration of Hilton House has always been a long standing aspiration of mine, since I started working in property 13 years ago.
"My father used to attend meetings here when I was a child, he ran his textile business in the area, and this building has been in my sight ever since.
"The Northern Quarter is known nationally and internationally as an aspirational destination due to the rise of independent businesses and entrepreneurs – it has seen rapid growth over the past 10 years, yet it still manages to maintain its rich heritage and culture.
"Hilton House of the future allows businesses of all walks an opportunity to become part of the story of this local community. CERT has now crafted a space to exist and create your own chapter within the ongoing narrative of the Northern Quarter."