People on the Move: Berwick Partners; Five Wealth; Dow Schofield Watts Angels; Macbryde Homes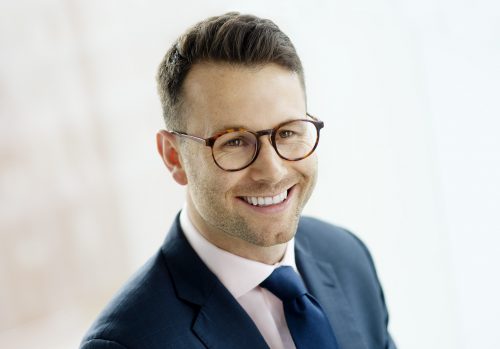 National executive search firm Berwick Partners, which has an office in Manchester, has expanded its practice team dedicated to the FMCG (fast moving consumer goods) sector in response to changing trading and market conditions for fresh food manufacturers, producers and retailers ahead of Brexit.
As growing numbers of consumers are moving to 'Buy British', the market for sustainably sourced fresh produce and meat-free options continues to grow, and as many grocery retailers tackle the indecision created by Brexit and attempt to secure supply chains and delivery of goods, the firm has appointed agriculture and fresh food and produce sector leadership specialist Mike Thornhill.
Mike's experience blends a knowledge of consumer goods from working in commercial roles at Thorntons, Coca-Cola and Honeywell, followed by a move into specialist executive level recruitment for a leading recruitment organisation, working with clients in the UK and overseas.
A Manchester Metropolitan University Business Management graduate, Mike holds a Masters Degree in Strategic Retail Buying.
He said: "Increasingly grocery retailers are looking to UK producers and manufacturers to support a strategy for simplified supply chains that address possible implications of a 'No Deal' or a 'Bad Brexit Deal'.
"Combined with a rise in consumer demand for sustainability, this means the sector is ripe with opportunity, and building teams with strong executive leadership is central to delivering on these strategies."
Managing director Richard Love said: "Current trading conditions for fresh food producers and manufacturers sees them being squeezed by both consumers and retailers, and strong leadership is critical in these challenging and uncertain times.
"Despite facing some challenges, the sector remains cautiously optimistic, and whilst Brexit creates indecision and ambiguity, it also presents tremendous opportunity for many food, drink and consumer goods organisations, particularly those prepared to be agile, and to adapt and innovate.
"Our FMCG Practice team is already rich with drinks, confectionary, consumer lifestyle and wellness sector specialists, and Mike's appointment reaffirms our commitment to the consumer sector to ensure insights, knowledge and added-value for our clients in the fresh produce and agriculture sectors."
::
Due to continued growth – now managing in excess of £500m – Manchester-based Five Wealth has recruited heavily this past 12 months.
Three new financial planning managers have been recruited, working with the directors to assist with research and client reporting.
Tom Mitchell joined after graduating from Manchester Metrpolitan University working directly with managing director Phil Shaw and his clients.
Tyme Regent-Bascombe working with director Steve Jordan joined after approximately three years in the industry.
Andy Denton joined from Royal London working for director Phill Dewhurst. To bolster the admin team Christine O'Connor and Stacey Woodman also joined to support the advisers and managers.
::
Dow Schofield Watts Angels (DSW Angels), the business angel network, has expanded its team with the appointment of Ellie Boardman as investment executive.
Ellie joins the firm from KPMG in Manchester where she spent three years working in the audit department and where she qualified as a Chartered Accountant.
During this time she gained experience working with a wide range of businesses, including international tech firms located both in the UK and US.
Ellie will be based at DSW Angels' Daresbury office, where her role will include helping to assess applications from early-stage companies seeking scale-up funding, liaising with angel investors in the network and supporting existing investments.
Her appointment comes as DSW Angels expands its operation across the UK regions after recently being announced as a partner in British Business Investments' £100m Regional Angels Programme, designed to help reduce regional imbalances in access to early stage equity finance for smaller businesses across the UK.
British Business Investments is a wholly-owned commercial subsidiary of the British Business Bank, the UK Government's economic development bank.
Established in Summer 2017, DSW Angels now has around 100 investors.
Its investments include Warrington-based software company Avanite, Manchester-based e-commerce platform Shopblocks, online events marketplace PopTopUK of Newcastle and Chester-based women's outdoorwear brand ACAI.
Keith Benson, of DSW Angels, said: "Ellie's financial skills and her experience working with tech firms will be invaluable in helping us to identify and invest in early-stage businesses with high growth potential.
"Her appointment comes at an exciting time for DSW Angels.
"Ellie will play a key role in helping us to expand the network outside the North to help bring the benefits of angel investment to businesses in other UK regions."
::
St Asaph-based Macbryde Homes has increased its team by a quarter as it continues to capitalise on demand for new homes across North Wales and the North West of England.
The family-owned business is currently working on several developments across North Wales with a further two to start imminently. Its pipeline of future developments, however, is such that the business decided to invest in the team at all levels.
In all, 11 appointments have been made ranging from trainee, through to director-level roles. Managing director Gwyn Jones, who has led the business for the past 18 months, said: "Macbryde Homes has enjoyed rapid growth in recent years and with a buoyant and growing pipeline of work in place we knew it was time to bolster our ambitious and committed team in order to further drive the business forward.
"In order to exploit the growth opportunities ahead in a well-managed fashion, we have carefully recruited a number of new roles.
"We have focused on bringing in candidates who possess attributes and values that suit the business and its core values of teamwork, dynamism and on always being the best."
While all of its current sales sites are in North Wales, Macbryde Homes has several sites in its pipeline across the North West of England which will go live during 2020.
To support this growth strategy Paul Hayes has taken up the role of land and partnership manager, joining from Countryside.
He is joined by Eoin O'Donnell who has taken on the role of preconstruction director having built a wealth of experience in roles at Redrow Homes and Galliford Try.
Craig Evans who joins from Countryside as a design and technical co-ordinator, and Michael O'Toole who has joined from Taylor Wimpey as project manager.
Further appointments have been made in architectural roles, services, on-site roles and sales. However, with the future of the business very much front of mind, investment has also been made in entry-level roles.
Gwyn said: "Earlier this year we appointed Tom Fletcher to the role of trainee quantity surveyor. We are firm in our belief that building a successful career is defined by a mix of the right qualifications and experience, but also the right attitude and a demonstrable enthusiasm to contribute meaningfully to the vision of the whole team.
"Tom is a perfect example of this, and I feel sure that him joining at this exciting time will provide him with a great start to his career.
"The continued growth of our business means we're not only delivering much-needed homes across the region, but that at the same time we're also providing high-quality jobs to local people and thus boosting the regional economy further."
Macbryde Homes' recruitment drive is anticipated to continue with a vision to further increase the workforce by another quarter over the coming year.