Year of planning successfully delivered for British Salt site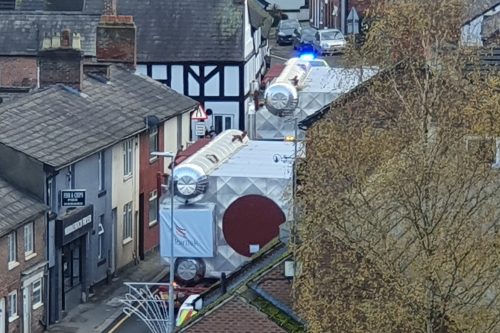 A £7.2m 'special delivery' for the British Salt Middlewich site involved a dedicated police escort through the Cheshire countryside.
Two state-of-the-art boilers, built in Spain, were delivered, via Ellesmere Port, by slow-moving convoy last weekend.
Designed and built in Bilbao, the two Lointek-manufactured boilers travelled more than 700 nautical miles over three days, in a dedicated vessel, to Ellesmere Port docks.
This was followed at the weekend by a 30-mile, three hour road trip, accompanied by a police escort along the A51 and A54, before passing through Middlewich town centre and on to the British Salt manufacturing site, off Cledford Lane, which is celebrating its 50th anniversary.
The boilers will form the centrepiece of the new British Salt boiler plant facility that's currently under construction and scheduled to become operational in the Spring.
Weighing more than 90 tonnes each, the 12-metre-long, 6.2 metre-wide boilers look futuristic in contrast to their 50-year-old predecessors that are now approaching the end of their working life.
Not only will the new boilers present improved operational capabilities and reliability, they will also comply with the Industrial Emissions Directive and will utilise the best available technology, producing less than half the NOx emissions of the current boilers.
Their installation will help to future-proof the Middlewich site and ensure reduced carbon footprint and state-of-the-art energy efficiency.
Projects director Ladan Iravanian said: "We are delighted to take delivery of the new boilers at our British Salt HQ.
"This very special delivery is the culmination of more than one year of planning.
"The three hours' journey from the Ellesmere Port dockside to Middlewich required military precision, by all involved, including transport and logistics specialists, Mammoet.
"Our thanks go to all concerned for ensuring that the operation at the weekend was hitch-free."
The new British Salt boiler plant represents the largest single investment in the company since its inception in 1969. The company said the new boiler plant will be key to the success of British Salt in years to come.