People on the Move: Northstone; The Link App; Berwick Partners; DSG; Foundations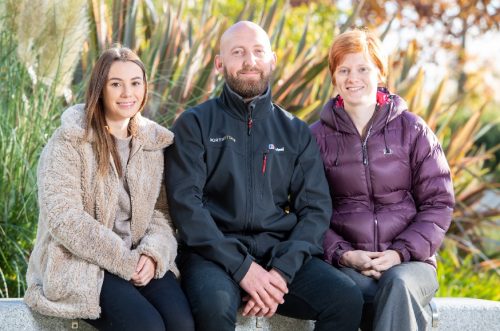 Northern-based homebuilder and place maker Northstone has announced three new appointments in its accounts, development and construction teams.
Following planning approval for the first site in Westhoughton just last month, Bernadette Barry joins as development manager with more than 10 years' experience in the development and project management of renewable energy projects.
Bernadette will work closely with development director Jon England to develop new and sustainable residential schemes in the North West.
John Rush has been appointed as site manager for the first Northstone development of 150 homes in Bolton.
He brings 15 years' experience and joins from the Kingswood Homes team who were crowned the Regional Winner of the LABC (Local Authority Building Control) Building Excellence Award 2019.
Meanwhile, Chloe White leaves Peel Media to take up post as management accountant at Northstone and is based at the company's headquarters at MediaCityUK.
Phil Wilson, Northstone's chief executive, said: "As we celebrate the end of our first year it's great to welcome Bernadette, John and Chloe to the growing Northstone team. These are exciting times for Northstone and I look forward to seeing the trio progress within the business."
Bernadette said: "Northstone is a new company with great ambition for growth. The housing sector, and companies like Northstone, will play a hugely important role in addressing the UKs housing crisis over the coming years.
"I'm looking forward to progressing new and innovative schemes, helping to build new sustainable and energy-efficient communities in the North West."
::
Gary Turner, co-founder at Xero, the cloud-based accounting software-as-a-service platform for small businesses, has joined the board of The Link App, the client software platform that helps lawyers keep in touch with their clients.
He joins as growth board advisor and is looking to leverage his 30 years' experience in the UK software industry with Pegasus, Microsoft and Xero, further to accelerate The Link App's rapid growth.
Devised as an easy-to-use platform that reinvents a client's experience of their legal transactions, The Link App enables lawyers to instant message their clients, share documents with them and arrange call backs, while clients benefit from regular, accessible case updates, push notifications and secure document storage.
"It is in my DNA to support scaling businesses. I see significant parallels between the worlds of accounting and law. Both are very old industries that haven't seen much change in the last 50 years, and many are recognising that to survive, they can no longer ignore that," said Turner.
Lauren Riley, solicitor and CEO of The Link App, said: "We are privileged to be joined at board level by someone of Gary's experience and standing in the world of software. The fact that he sees similarities between The Link App and Xero is excellent news for the thousands of UK law firms seeking to deliver a world-class client service experience."
::
Executive search and recruitment firm Berwick Partners has launched a life sciences practice dedicated to recruiting senior executives into pharmaceutical, biotechnology, medical devices and service provider companies, nationally and internationally.
To support the launch the firm has recruited Caroline Hunt and Katy Wallace as senior consultants in the new practice.
A graduate from the University of Warwick with a BSc in Microbiology & Virology, Caroline Hunt joins the firm's Manchester office and will specialise in CRO biotechnology and pharmaceutical appointments.
Katy Wallace, based in London, will focus on senior appointments for the medical devices and medical technology sectors and joins after 11 years recruiting senior leadership roles within manufacturing and supply chain functions across global life sciences clients.
Caroline, who holds an MSc in Medical Microbiology from the Liverpool School of Tropical Medicine, began her career as a virologist at Unilever before moving into executive search.
She has spent the past 14 years working across the life sciences and consumer markets with boutique executive search organisations in the UK and North America, and a leading global organisational consulting firm.
"This is a time of enormous disruption in the life sciences sector," she said.
"The generation of novel IP and new entrants from the technology industry are accelerating the dawn of personalised medicine.
"With a near constant stream of capital and emerging technologies, biotech start-ups have proliferated, investors and big pharma are chasing innovations, and drug approvals have hit record levels globally.
"Talent acquisition has become a key indicator of future success, with well-funded early stage companies and global pharma companies competing on an increasingly level playing field."
Richard Love, Berwick Partners' managing director, said: "Sustainable success for life sciences organisations is highly dependant upon their ability to attract intellectually agile, technically excellent and highly commercial people. The value that search firms add in identifying first class talent in a highly competitive market is more profound than ever."
::
Mark Kearsley has been promoted to tax director at DSG Chartered Accountants following 11 years at the firm as a chartered accountant and chartered tax advisor.
His new role will have a focus on business development and advisory work for SMEs to large corporate firms across the Liverpool City Region.
As well as assisting in leading the tax team of 13 people, he will oversee claims for creative industry tax reliefs and approval of seed/enterprise investment schemes.
Mark will work closely with the head of tax, Mike Stott, and the DSG partners Iain White, Jean Ellis, Tony Bayliss and Andrew Moss in supporting the growth of the business, as well as serving the varied portfolio of clients across Liverpool and North Wales.
This promotion follows Mark's recent appointment as chairman for the Merseyside branch of the Chartered Institute of Taxation and Association of Taxation Technicians.
Mark said: "I'm incredibly proud to have been promoted as tax director, having started 11 years ago as a trainee, and hope that through working with the partners I can really support the firm's growth in the future. I look forward to leading the talented tax team and with this, supporting businesses across the region."
Mike Stott said: "We are thrilled to announce Mark's promotion, which highlights his commitment to DSG since 2008 and his achievements.
"Our internal promotions show the desire to strengthen our team which, in turn, will strengthen our position as one of the leading independent accountancy firms in the North West."
::
Liverpool City Council's ethical housing company, Foundations, has announced four appointments to strengthen its board and senior management team.
Foundations is the flagship housing policy for the Mayor of Liverpool, Joe Anderson, who wants to use the company to rebalance the city's housing stock, revolutionise the rent to buy sector and drive up council tax receipts for the council.
The new non-executive directors are Darrell Mercer and Angela Forshaw who have joined Foundations' board, bringing with them a range of industry skills and experience.
Darrell Mercer is group chief executive of the A2Dominion Group, which is one of the largest property developers in the UK.
He has more than 40 years' experience in the housing sector and he started his career at Liverpool Housing Trust before moving to the Housing Corporation.
Angela Forshaw is a member of the Chartered Institute of Housing and between 2008 and 2019 was the executive director of operation at Liverpool Mutual Homes (LMH).
At LMH Angela had executive responsibility for all housing and property services, including asset management and property services, decentralised housing management services, income services, and for the company's non-housing charity, ComMutual.
Foundations has also recruited two new colleagues to its senior management team.
Louise Davies has joined as development director, bringing with her more than 17 years' experience in the housing sector. Most recently, Louise was group development director at Sovini Housing Group, where she led on the delivery of a diverse range of affordable housing programmes.
Foundations' new finance director, Liam Knowles, will join the company from Sovini Group. In his role as group finance manager for Sovini, Liam has helped to provide financial oversight for a major £200m build programme.
Frank Hont, chair of Foundations, said: "Foundations is at an incredibly exciting period in its growth and we are delighted to be welcoming an experienced group of people to join our senior team.
"We're very pleased to have appointed both Angela and Darrell to our board and we're looking forward to gaining their insight and the wealth of industry experience that they will bring to the table.
"Foundations has a major stake in the future of Liverpool's housing market and we've been committed to building a team of experts who will work to ensure that we can meet our ambitions.
"The arrival of both Louise and Liam to the team reflects our desire to continue to strengthen Foundations' offering and their experience and knowledge will be invaluable as we enter an exciting new chapter of growth."