People on the Move: RLWC2021; Bruntwood; Marsh; Stagecoach; Peaks & Plains Housing Trust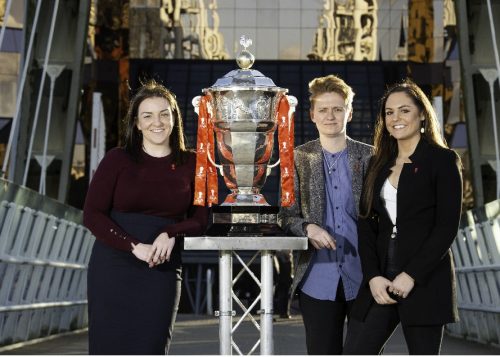 Rugby League World Cup (RLWC2021) has added four new team members following the appointments of Terri Lynam, Esther Crane, B Hunter and Kait Ludwig. Additionally, Stephen Brown has been confirmed as chief operating officer.
The team is based at Quay West, in Manchester's MediaCityUK.
The Rugby League World Cup is coming to England in 2021, and the tournament's organisers have ambitious objectives, dedicated to making RLWC2021 the most digitally-connected and inclusive sports event in 2021.
Terri Lynam joins the team as head of customer, as RLWC2021 looks set to deliver a world-class customer experience.
Terri has more than 20 years' marketing communications experience, has won multiple marketing awards, run her own consultancy business and over the past nine years has worked on large-scale sporting events, including the 2012 London Olympic and Paralympic Games, Rugby World Cup 2015, Commonwealth Games 2014 and 2018, and the 2017 UEFA Champions League Final.
Kait Ludwig has joined the team in the role of customer lead. Having grown up in rugby league-loving Canberra, Kait has impressive experience in the sporting industry, working for the NRL giants and Canberra Raiders, as well as roles with Super League and the Rugby Football League (RFL) since moving from Australia in 2014.
With a proven track record of selling out major events and securing record-breaking attendances, Kait earned well-deserved recognition when she featured in the 2019 Sports Industry Group's NextGen programme, celebrating the top 30 sports professionals aged under 30 working in UK sport.
RLWC2021 has also added B Hunter to the team as its new digital lead. B has more than 10 years' experience delivering digital projects, campaigns and content across the tourism, sports and arts sectors.
With an impressive record for working in highly collaborative and multi-stakeholder environments, as well as experience in the sporting sector, B joins the team from British Cycling.
Completing the new line up, as of January 2020, is Esther Crane, who will come on board in the role of special projects and protocol lead.
After graduating from Leeds Carnegie in 2009 with a BA in Events Management, Esther spent six successful years at Asda, rising through the ranks to become a senior events manager.
With a passion for sport stemming from her time volunteering at the 2008 Commonwealth Games in India, Esther will bring her combined work experience and love for sport to the team.
Finally, Stephen Brown has become the permanent chief operating officer having undertaken the role on an acting basis since the start of the year.
Stephen has worked on the project since the early days assisting with the government funding agreement, bid to host the tournament and also led the selection of towns and cities. Previous to his work in Rugby League, Stephen worked at The FA.
RLWC2021 chief executive, Jon Dutton, said: "We're delighted to welcome Kait, B, Terri and Esther to the team alongside Stephen being made our permanent chief operating officer.
"Not only do all of our new team members possess impressive credentials and experience, they also share the same values we all do at RLWC2021.
"It is so important that the members of our team have a combination of experience, drive, and a passion for delivering what promises to be the biggest and best sporting event in 2021, and we are certain that the newest members to RLWC2021 fit that mould."
::
Fifteen new recruits have joined property giant Bruntwood as part of its Future Talent programme, designed to discover, inspire and develop the next generation of outstanding talent.
The new starters being welcomed into the business include five successful candidates from its graduate scheme which launched earlier this year, four additional graduate roles, and six new apprenticeships.
Aimed at students, graduates and career changers, the programme offers upcoming talent a unique route into the property industry, designed to allow them to gain new skills and experience by working across a range of different departments.
The 2019 graduate programme, which opened for applications in January, attracted incredible interest with more than 800 people applying to join the scheme. Of these, five ambitious students from universities across the country have now been selected to take part in the three-year programme.
Rather than assigning each individual to one specific role or discipline, the graduates will spend time rotating through various departments to gain broad, rounded experience across a diverse range of specialisms, from marketing to property management.
They will receive close mentoring from the team to create tailor-made development plans, identifying their strengths and giving them the chance to shape their own personal career path.
In Spring 2020, the graduates will take part in a European trip to learn more about the urban environment, architecture and be inspired by how other countries and cities are investing in low carbon and sustainability initiatives to bring back to the workplace.
Two new degree apprentices have also recently joined the Bruntwood team studying a wide range of specialisms, including chartered surveying and building services design engineering. One of the apprentices, studying building services design engineering, joined via the T Levels process.
One further apprentice, who also came through the T Levels process, has joined the team and will be studying electrical installation.
Completing the new additions is an electrical apprentice joining the technical services team and a business admin apprentice joining the first customer contact team.
Bruntwood has also taken on an apprentice as part of a partnership with international construction company Sisk and the M Futures programme run by Total People. Sam Bailey is currently studying an HNC in Construction at Bruntwood for a year before joining Sisk.
Adele Weaver, head of learning and development at Bruntwood, said: "The scheme provides an exciting opportunity for our graduates and apprentices to embed themselves in the business.
"Bruntwood has a real sense of purpose and we wanted people who shared these values. We now have a brilliant line-up of bright, enthusiastic new recruits with fresh new thinking and ideas, who genuinely care about the communities and cities in which they work.
"We are really looking forward to learning more about them and their unique skills and talents, so we can find the perfect career fit for them at Bruntwood."
Bruntwood graduate Murray King, who studied International Business at The University of Chester, added: "The main thing that made me excited about Bruntwood was its mission to 'create thriving cities' by creating partnerships and investing in its communities.
"I also found the introduction to the graduate scheme really inspiring, as I didn't have a clue what I wanted to specialise in as my degree is so broad. The opportunity to learn whilst I work, in some stunning buildings, and help other companies to grow, makes me really excited for what the future holds."
::
Marsh, the insurance broker and risk adviser, has appointed Mark Mansfield as head of office, corporate division, Manchester.
He will report to Allan McPherson, regional managing director for North of England & Scotland, corporate division.
Marsh's corporate division provides insurance broking, risk advisory and claims services to a wide range of organisations, from growing local businesses to multinational companies, across the UK.
In his new role Mr Mansfield assumes overall responsibility for Marsh's corporate clients in one of the firm's largest regional UK offices outside London.
Mr Mansfield joined Marsh in 2015 and previously focused on bid management and new business development.
Before joining Marsh he held several senior roles at Arthur J Gallagher. He first worked for Marsh from 2001 to 2008, after securing a place in Manchester on the firm's graduate programme.
Allan McPherson said: "With his specialist industry knowledge and regional insight, Mark is well-placed to lead Marsh's Manchester office and deliver the best of the firm to our corporate clients across the region. I look forward to working with him as he further develops Marsh's business operations in Manchester."
Mr Mansfield added: "Greater Manchester is a great place to grow or start a business.
"However, many organisations are faced with an increasingly complex array of risks which are being created by wider economic, geopolitical and technological pressures.
"I'm excited to take the helm of Marsh's office in my home city. Aside from time away at university I've lived and worked in Manchester all my life and am proud to be part of its thriving business community."
::
Stagecoach Merseyside, Cheshire and South Lancashire has strengthened its core team with the appointment of a new engineering director, based at its Gillmoss depot in Liverpool.
Steve Swires joins the business having worked as a depot fleet engineer at Stagecoach Manchester's Hyde depot for the past 10 years.
As part of his new career, Steve will be responsible for overseeing the four engineering managers in Stagecoach's depots across the region and ensuring that its 426-strong bus fleet is fully operational every day.
He will also take a leading role in the recruitment and training of the company's apprentice intake.
Steve said: "I'm really pleased and proud to have been appointed to this new role, and can't wait to hit the ground running.
"Having spent the last decade with Stagecoach, I have a deep understanding of the company's business and operational model and I'm looking forward to bringing that experience and insight to the role.
"As technology advances it's an incredibly exciting time to be working in automotive engineering.
"It is fantastic to have an employer like Stagecoach which continues to lead by example with more investment in sustainable, greener transport than ever before.
"I also relish the opportunity this role offers to grow and develop our apprenticeship training programme and play an active role in shaping the training of the next generation of engineers."
Rob Jones, managing director of Stagecoach Merseyside, Cheshire and South Lancashire, said: "Steve brings with him a wealth of experience and we warmly welcome him on board.
"Growing people and giving them opportunities to progress within the business is something that we strongly believe in. Many of our management team have worked their way up in the business – gathering invaluable experience along the way.
"We look forward to seeing Steve continue to grow and bring his extensive skills and knowledge to the business."
::
Macclesfield housing provider Peaks & Plains Housing Trust has announced a new leadership structure to take the organisation forward.
Mark Howden, previously director of place and deputy chief executive, will be taking up the role of interim chief executive with immediate effect. This follows the decision by former chief executive, Tim Pinder, to step down after a period away from the business.
The Trust has recently appointed a new assistant director of development, Justine Gore, and is in the process of recruiting a new executive director of operations to join the executive leadership team, working alongside Julie Booker, the existing director of resources.
Together, the executive team will support John Hudson, chairman of Peaks & Plains Housing Trust, to maintain its strong position as a profit-for-purpose housing provider and undertake a strategic review of operations across the organisation.
John Hudson said: "At the Trust, we are moving forward and continuing to provide new, safe and affordable homes as part of our commitment to be a great landlord.
"I have been very impressed with the leadership qualities that Mark has demonstrated during the recent period of change and we are confident that the new executive team under his direction are best placed to take forward the Trust's ambitious plans for the future."