Developer celebrates major topping out milestone at Circle Square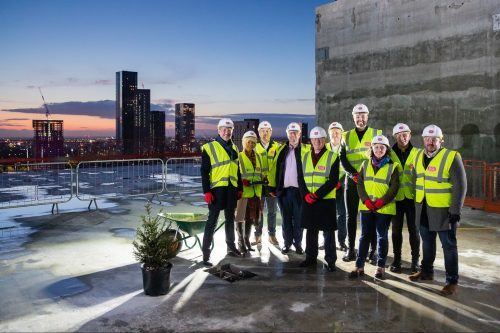 Bruntwood SciTech has celebrated a major milestone at Circle Square with the topping out of its first two commercial buildings – No.1 and No.2 Circle Square.
Located in the heart of Manchester's Oxford Road corridor innovation district, No.1 and No.2 Circle Square provide 400,000 sq ft of commercial workspace at the new city centre neighbourhood.
Sir Richard Leese, leader of Manchester City Council, joined chair of Bruntwood SciTech, Chris Oglesby, and guests to celebrate the landmark event.
No.1 and No.2 Circle Square have already received exceptional levels of interest from national and international innovation-led businesses.
Global tech company Hewlett Packard Enterprise has already announced the relocation of 300 staff to No.1 Circle Square to be close to the city's talent pool, while law firm for many businesses in the science and tech sector, Mills & Reeve, recently announced the relocation of its Manchester office to No.1 Circle Square in 2020.
Due to be completed by September 2020, No.1 and No.2 Circle Square have been designed by architects Feilden Clegg Bradley Studios and are being built by contractor John Sisk & Son.
Both buildings offer a range of co-working, small office suites and social spaces, as well as larger floor plates to accommodate fast-growing digital and tech businesses.
No.1 will also provide state-of-the-art conference and events facilities and a large ground floor welcome space, with cafe.
Companies based at Circle Square will also benefit from Bruntwood SciTech's bespoke programme of business support providing access to skills and talent, finance and funding and new markets as well as collaboration opportunities with some of the city's most disruptive tech start-ups and scale-ups.
A range of social, health and wellbeing events will also be provided.
Circle Square, a joint venture between Bruntwood SciTech and Vita Group, is a new neighbourhood for the city that will boast more than 1,700 new homes, 1.2 million sq ft of workspace and in excess of 100,000 sq ft of retail and leisure space, providing a variety of boutique retailers, restaurants, bars and pavement cafes, all centered around Symphony Park.
The Park, the first in the city for a generation, will host a variety of community and cultural events celebrating the city's dynamic and creative community for residents and visitors alike.
Sir Richard Leese said: "This is a real milestone in the emergence of Circle Square at the heart of the Corridor Manchester innovation district.
"Circle Square will be a real asset to the city, strengthening its role at the cutting edge of tech and innovation-led business, creating hundreds of jobs and developing ever closer links with our world-leading universities.
"The wider development will also see the creation of more city centre green space, the football pitch-sized Symphony Park, for Manchester people to enjoy.
"Together with the new Mayfield Park, it shows how green areas are being actively created as part of our wider masterplanning."
Chris Oglesby, chair of Bruntwood SciTech, said: "At Circle Square digital and tech businesses will be connected not only with one another but also into one of the top five innovation districts in Europe, providing them with unrivalled opportunities to collaborate and innovate at pace.
"As a partner in the Oxford Road Corridor alongside the city council, two universities, and NHS trust, we have a long history of investing in this important part of the city and working in partnership to enable amazing talent and brilliant new ideas coming out of the universities to connect with pioneering industry, scale and succeed.
"This landmark event for the city is a celebration of the continuing evolvement of this thriving innovation ecosystem and is still only the beginning of this new neighbourhood and what it will achieve.
"I'm very much looking forward to seeing No.3 Circle Square, the next chapter which is already under way, come to life, delivering another 224,000 sq ft of much-needed high quality workspace for the city in 2022."
Guy Fowler, managing director North & major projects at John Sisk & Son, added: "We are delighted to have reached this significant milestone for the project at Circle Square in the heart of Manchester.
"Thanks to all the team and our supply chain partners for all the work in getting us this far and we look forward to delivering the completed development next year and creating another key landmark for the city of Manchester."