People on the Move: Miller Homes; ESE Energy Group; Dept; HW Global Talent Partner; Secure Trust Bank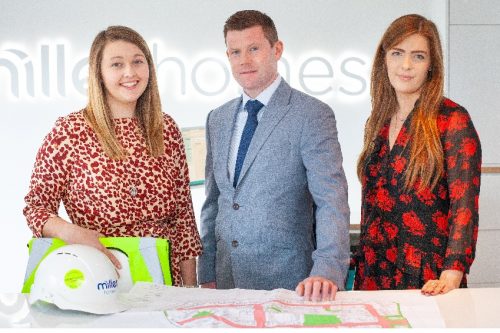 Housebuilder Miller Homes has recently made a new senior appointment to its North West Land team, alongside hiring another degree apprentice.
Both appointments are part of Miller Homes' ongoing commitment to providing industry-leading talent to various strings of its business, as well as encouraging fresh, creative minds into the organisation through its apprenticeship schemes.
Katherine Ball joins Miller Homes as a senior land manager from Redrow Homes, where she was previously in a similar role after working her way up from a graduate rotation scheme that she began in 2014.
She has experience in identifying, negotiating and contracting on new residential opportunities in the Lancashire region, and has a Masters degree in Real Estate and Property Management. Her experience brings a wealth of detailed understanding of technical and planning issues, which help to front more sustainable urban planning.
Katherine said: "I'm very excited to join Miller Homes. They have a fantastic reputation within the housebuilding industry and have very inviting company values. I know my hard work will be appreciated and there are plenty of opportunities available for my progession in this role."
Rhiannon Darcy, assistant land buyer, is also welcomed to the team as Miller Homes' newest degree appprentice.
Currently studying a Masters in Real Estate and Property Management at Salford university, her knowledge will serve Miler Homes' North West division well. Working alongside Katherine, Rhiannon will be supporting the North West team in producing land bids, doing appraisals, market research, land searches, as well as looking into affordable housing contracts.
Rhiannon added: "I'm really excited to be starting my journey in housebuilding with Miller Homes. The opportunity they've given me to learn and work at the same time is really fantastic, and I couldn't think of a better employer to be working for. I'm really excited to see how this degree apprenticeship will help me progress.
Paul Coggins, land director at Miller Homes in the North West, said: "I'm so pleased that Katherine and Rhiannon have joined us, they will both be great assets to the team."
Miller Homes has nine active developments in the North West, and is currently building homes in the North West including Novus in Stretford, Millrose in Blackburn and Turnstone Grange in Congleton.
::
The former deputy chief executive of St Helens College has taken up a new role with ESE Energy Group.
Rob Molloy, who was responsible for finance, facilitates and estates management at the college, has joined the solar energy specialists as chief operating officer.
Mr Molloy has already started his new role at the Hunts Cross-based electric energy firm. He will be overseeing a major expansion in services in 2020.
ESE Group is currently one of Britain's largest supplies of solar PV energy and battery power systems.
The South Liverpool company has ambitious plans to expand operations into corporate markets and is preparing to launch additional renewable energy alternatives in the new year.
Mr Molloy said: "Promoting green energy to tackle climate change is one of the most critical issues of our times. It is the core focus of ESE Energy.
"The business is at the forefront of renewable technology in the UK and has an ambitious plan to grow and educate people on its benefits.
"ESE is about to embark on a major expansion, which includes offering more products and services. I am very much looking forward to leading it."
::
International digital agency Dept is gearing up for continued growth in the UK with the appointment of Paul Thomas as client development director and engagement manager James Shilton.
Thomas joins Dept with more than 15 years' experience driving business growth via acquisition, digital transformation, marketing and account development.
With a passion for digital and a hybrid background, involving technology, creative thinking, strategy and marketing, Thomas is perfectly poised for the integrated digital agency.
Prior to Dept, Thomas was director of business development at Zone – part of Cognizant – and head of sales at Kagool.
He said: "It's an exciting time to join Dept. Just three years in, the agency is a top UK agency and is expanding across the globe with unprecedented levels of growth.
"Dept is ambitious, with talented teams of specialists in all areas of emerging tech, ready to reinvent the digital industry.
"I'm looking forward to continuing to drive the agency forward with high-calibre opportunities."
Thomas is a Sitecore MVP and has established relationships with Dept's key technology partners, which makes him even more of an asset. He will be overseeing the new business growth of Dept's design and technology services in the UK, partnering with new brands and expanding the agency's technology partnerships.
Dept also welcomes James Shilton from Kagool, who has joined to grow its sales operations team to help fuel the agency's new business aspirations.
"Joining Dept to develop a sales operations team is a welcome opportunity. With its full service offering and impressive client roster, I look forward to optimising all of our experience to reach and engage businesses across the UK," said James.
"On a personal level, I am looking forward to growing the team ahead of an exciting 2020 at Dept."
After a strong year of growth, the agency isn't showing signs of slowing down, with further expansion planned for 2020. The UK client roster includes Triumph, Formula E, O2 and Sony PlayStation.
::
Manchester headhunter HW Global Talent Partner has hired a new finance director as it targets rapid growth, both organically and through strategic acquisitions.
Rob Pettican has joined as group FD accountable for the company's finances, in a new position created to support the planned expansion of the group.
Rob qualified as a chartered accountant with KPMG, where he gained exposure to a broad range of clients including large plcs, high profile sports teams and private equity-backed businesses across a range of sectors including manufacturing, pharmaceutical, tourism and retail.
He also brings significant M&A experience, having worked on a number of cross-border deals on both the buy and sell side in the UK, USA, Central Europe and the Middle East.
In a busy period for recruitment HW have also announced the appointment of new principal researchers Mike Langford, Anna Sharrott and Harry Spetch, and customer relationship managers Laura Rushton and Marketa Simova.
Meanwhile, principal researcher Jake Slater has joined the interim practice from the executive search division to support its consumer clients.
Chief executive Spencer Jinks said: "In an excellent year for HW Global, which has seen revenues grow by more than 30%, it has been equally busy on the internal recruitment front. We are delighted to welcome Rob to the board, in a key appointment to support our growth plans.
"Following the acquisition of UK digital recruitment agency Zebra People in May, we are currently involved in discussions with other potential M&A targets and Rob's extensive experience in cross-border deals on both the buy and sell side will be invaluable.
"He joins Mike, Anna, Harry, Laura and Marketa, who bring a wide range of experience in executive search and financial services, as new members of our fast growing team at such an exciting time for us."
HW Global, which has a £20m turnover and employs 50 staff based in Didsbury, Leeds and London, currently operates on an exclusive and retained basis in the £120K+ search market, also placing interims on daily rates from £700 to £2,000.
The Zebra People acquisition has enabled HW Global to offer a comprehensive digital talent service to its clients, with HW Global appointing senior digital leaders and the Zebra People team building the critical capability that sits underneath.
HW Global's medium term business strategy envisages substantial growth by acquiring leading human capital organisations operating in its key market sectors of consumer and financial services, at the tier below executive level.
Other potential acquisition targets include recruitment agencies specialising in finance, HR, technology and professional interim.
::
Secure Trust Bank Commercial Finance has bolstered its senior team in the North West by appointing Paul Johnston as regional managing director.
Paul has more than 30 years' experience within the asset-based lending market.
He joins from Santander where he held positions including director of asset-based lending and director of international trade and working capital. Prior to this he held senior roles at Landsbanki Commercial Finance and Lloyds Bank.
In his role at Secure Trust Bank Paul will be working alongside accountants and business advisors to support SMEs seeking asset-based lending solutions of between £1m and £50m.
As regional managing director Paul will be responsible for developing and implementing the local strategy and leading the relationship and origination teams in the North West.
In its latest interim results Secure Trust Bank Commercial Finance revealed it had provided £220.7m-worth of funding to UK businesses up to June 30, 2019 – an increase of £33.2m in comparison with the same period last year.
Paul said: "The North West is a thriving, prominent region in the UK, home to a host of businesses in sectors such as manufacturing and pharmaceuticals.
"I'm delighted to be joining the Manchester team and hope to drive the firm's success within the region. Secure Trust Bank's flexibility is what makes it different to other lenders and I look forward to working with businesses across the North West to boost their growth."