Plans for multimillion-pound development in Manchester city centre unveiled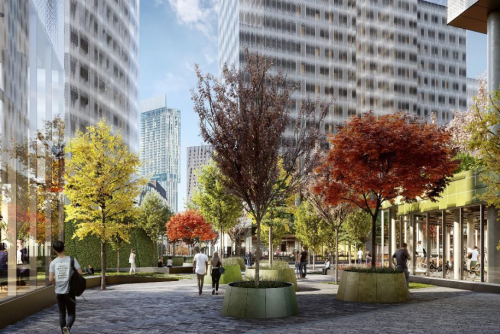 A developer has submitted plans for a major scheme in Manchester which includes hundreds of new flats over four tower blocks.
Developer and operator Downing is looking to launch the huge scheme in the rapidly growing First Street area of the city.
The area close to the Home arts centre is on the fringe of the city centre but is one of Manchester's fastest growing districts.
As well as Home the area is home to restaurants and bars and a hotel as well as offices and flats.
The developer is proposing to build a 'co-living neighbourhood' spread across four residential blocks, including a 45 storey tower.
Subject to planning consent, the scheme will provide more than 2,000 bedrooms split between a mix of accommodation types, ranging from private studios to five-bedroom apartments.
The co-living proposals include 269 one and two-bedroom apartments and 166 three, four and five-bedroom shared apartments.
The proposals also include a number of studio apartments which range from standard to larger deluxe suites.
Designed by architects SimpsonHaugh, the four towers will be clad in a striking glazed façade, with three of the blocks set at podium level.
The tallest tower will be 44 storeys plus ground level, set alongside three other blocks of 17, 22 and 26 storeys.
A proposed public square will sit within the heart of the scheme, designed by landscape architect and environment planner OPEN.
Downing plans to plant 130 trees across the site as part of its proposals to create extensive public open space and enhance connectivity through the site towards the city centre.
Downing is also proposing to build more than 300 bicycle storage spaces and a bike hire facility.
Amenities on the ground floor will be open to the public and include a 3,000 sq ft café and 14,000 sq ft gym, while podium-level facilities will be reserved for residents.
Shared amenities exclusive to residents will include co-working space, a resident's club house, private dining, reception lounge and a roof terrace with views over the city.
The development will be managed by Downing with a dedicated on-site team, including a general manager, hospitality and resident relations team, maintenance operatives and a permanent on-site security service.
The proposals offer flexibility for residents in terms of mobility, allowing tenants to select or move from shorter to longer term accommodation options.
All living options will include single monthly payments, inclusive of all bills and service costs to make moving in easy and straightforward to residents.
Downing will develop a new co-living app-based platform for residents which enables customers to submit service requests, receive package notifications and connect with the community.
George Tyson, projects director at Downing, said: "We're very pleased to be progressing with our vision for First Street to create a new community-based living space that will successfully complement the area's existing blend of cultural, leisure, retail and office space.
"Our proposals at First Street form part of a collective ambition to transform this district of Manchester into a vibrant urban environment and provide a new gateway into the heart of the city centre.
"We believe our plans will further add to the diversity and vibrancy of the working and residential community already based here and act as a catalyst for future phases of regeneration in the area, including the Oxford Road Corridor, by providing the highest quality residential space that will support the attraction and retention of talented workers vital for the growth of the city.
"As an experienced residential developer and landlord, Downing has responded to the growing demand in the market for a new flexible and experience-led living experience.
"Our vision is to bring this innovative way of co-living to First Street, offering our residents a home in the heart of the city centre, surrounded by like-minded individuals and providing access to a wide range of cultural, leisure and entertainment facilities."