Better figures and work in progress fills business sales specialist with confidence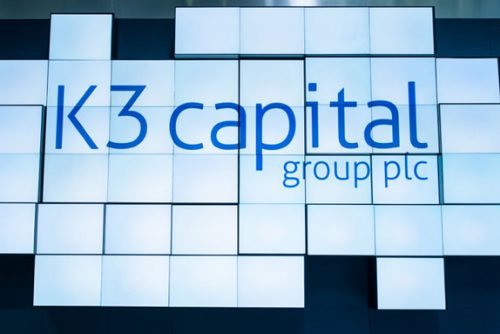 Bolton-based business and company sales specialist, K3 Capital, said it has made a strong start to its financial year, announcing its interim results to November 30, today.
Revenues in the six months hit £7.977m, compared with £7.199m at the same point last year.
Pre-tax profits rose from £3.054m last year to £3.258m in its 2020 financial year.
Net cash stood at £6.8m, up from £5.9m, while the interim dividend of 3.7p per share compares with 3.6p last year.
The group also announced record work in progress (WIP) levels throughout the business, which also saw a 12% increase in its headcount to 166 staff.
Looking ahead, it said it welcomed the General Election outcome in December as a positive for UK SME and the perceived stability that this provides to the M&A market.
In a strong start to the second half of the financial year, December, alone, generated revenue of £2.4m and EBITDA of £1.3m.
The strong WIP pipeline across all three of K3's trading brands gives a degree of confidence and visibility of future performance.
And the business continues to evaluate acquisition targets which could be additive to the overall product offering or allow the company to diversify its revenue streams.
Chief executive, John Rigby, said: "The board is pleased to report a strong trading period for the first six months of FY20 with double digit growth in both revenue and EBITDA.
"In the context of a difficult market backdrop of political and economic uncertainty, we completed more transactions than ever before. This has resulted in overall revenue of £8m and an EBITDA of £3.5m.
"We are further encouraged by a record WIP pipeline across the group, and coupled with a General Election outcome which we believe is encouraging for the M&A market, we are confident that the outlook for H2 FY20 is positive, and expect full year earnings to meet market expectations."
He added: "I am delighted to report a strong December with the month generating £2.4m in revenue and £1.3m towards EBITDA.
"Our technology-driven approach to marketing has ensured that we continue to see increased numbers of buyers, spanning private equity, trade and plc acquirers from both the UK and overseas.
"We secured a 57% rise in the volume of buyers attracted to the group, as well as an increase in buyer meetings of 51% and a 26% increase in offers."
He said: "The improving performance across these KPIs, a stabilising political and economic environment, coupled with the robust deal pipelines that exist across all three trading brands, lead us to a confident outlook for both the full year FY2020 and beyond."