Flotation places firm in Manchester's stock exchange premier league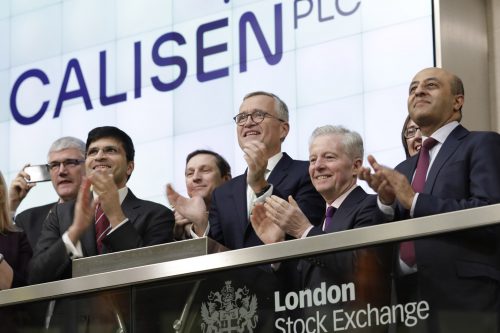 Manchester-based smart meter group Calisen began trading on the stock exchange today.
It raised £328.8m through a placing of 157.55m shares, approximately 25% of its capital, priced at 240p each, valuing the group at £1.32bn.
Early trading in the stock saw the price rise to 249p per share.
Proceeds from the issue of the new shares will be used to support future growth, to repay equity bridge loans, letters of credit and other debt, to fund existing and new contracts relating to the smart meter roll-out, and for other general corporate purposes.
Bert Pijls, Calisen chief executive, said: "Today marks the start of an exciting period for Calisen, with new capital to support our next phase of growth as a listed company on the London Stock Exchange.
"This is a significant achievement for all of us and I am extremely proud of all our employees, whose hard work in getting our business to where it is today has made this process possible.
"We are proud to be a major employer in Northern England and will continue to play an important role in supporting Britain's digital energy transformation."
Listed on the premium segment of the main market, Calisen qualifies for the London Stock Exchange's Green Economy Mark, which recognises companies that derive 50% or more of their total annual revenues from products and services that contribute to the global green economy.
Charlie Walker, head of equity primary markets, London Stock Exchange, said: "In addition to 'pure-play' green technology companies, the Green Economy Mark captures all equities on our London markets that derive at least 50% of revenues from products and services that contribute to the global green economy.
"This underlines London Stock Exchange's commitment to finding innovative solutions to support issuers in the transition to a sustainable, low-carbon economy, and to support the growing investor demand for actionable climate related information."
Calisen was acquired by US buyout group Kohlberg Kravis Roberts (KKR) in 2016 in a deal believed to be worth around £1bn.
It owns the smart meters currently being rolled out in homes across Britain as part of the Government's £13.4bn programme to help consumers keep better track of energy usage.
Calisen leases its meters to utility companies that then fit them in homes. It receives a monthly rent for 10-15 years as long as the device remains in a property.