Tickets going fast for annual business awards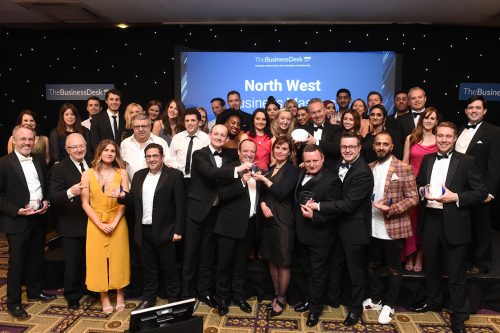 Tickets are being snapped up fast for the annual Business Masters awards.
The 2020 Business Masters will recognise the achievements of firms of all sizes across the region.
There are 13 award categories, covering the full range of business activity in the region.
There is one award, Ambassador, for the individual who has made an outstanding contribution either in leading their business or in representing the region or their sector on a bigger stage.
The Business Masters winners will be revealed at TheBusinessDesk.com's annual dinner at Hilton Deansgate, Manchester on Thursday, March 5, 2020.
Entries for the awards are now closed. Click here to buy your tickets.
The Business Masters is also a great opportunity to promote your business to a large group of growing, ambitious businesses in the region. Contact sales@thebusinessdesk.com to find out how your business can take advantage of these opportunities.
Entertainment on the evening will be provided by one of the finest all-female electric string groups, String Infusion.
Originating from Manchester, String Infusion has captivated audiences across the UK and Europe with their high energy sets. The band has provided music for X Factor and recently performed on the Pride of Britain awards as well as alongside the BBC Philharmonic Orchestra.
The shortlist for the Business Masters Awards 2020 is:
Newcomer of the Year
Future PR
Enso Accountants Limited
Graffiti Spirits Group
JP McGuire Developments
Mortgage Experience
Contribution to the Community
Hope Capital
Riverdale Insurance
Workspace Design and Build
Property Business
Workspace Design and Build
Hope Capital
Myersons Solicitors
JP McGuire Developments
RW Invest
Small Business
Gleaming Insurance
Alison Handling Services
Social
Enso Accountants
Hope Capital
Mortgage Experience
Medium Business
Genlec
Omni Resource Management
Alpine Fire Engineers
DA Languages
EPIC Group
UCFB
Large Business
Urban Splash
Graffiti Spirits Group
Myerson Solicitors
Innovation
AlphaBiolabs
Equitus Engineering
Gleaming Insurance
Alison Handling
Enso Accountants
UCFB
Investment
Alpine Fire Engineers
Graffiti Spirits
Alison Handling
DA Languages Limited
Professional Services
Future PR
Gleaming Insurance
Glaisyers Solicitors
Omni Resource Management
Myerson Solicitors
Riverdale Insurance
Family Business
Abbey England
JP McGuire Developments
Omni Resource Management Solutions
Epic Group
Fast Growth Business
Omni Resource Management
Alpine Fire Engineers
DA Languages
Mortgage Experience
Riverdale Insurance
Epic Group
Our Business Masters Ambassador will be announced on the evening.