People on the Move: Factored; Lambert Smith Hampton; Redwood Bank; St John's Buildings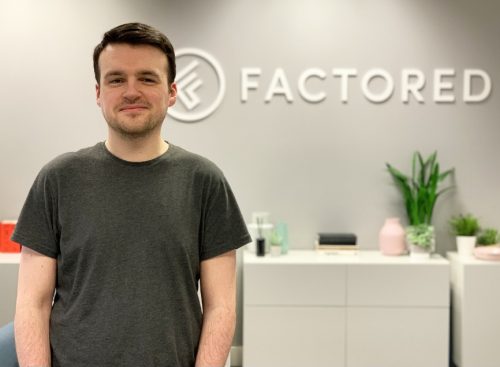 Lancaster-based brand and digital design studio Factored has appointed Rob Kirby as a frontend web developer.
With Kirby's appointment bringing the current team to six, the agency is also seeking a second web developer and an SEO specialist to support its ongoing growth.
Established 2013, with offices on Lancaster's Dalton Square, Factored provides brand strategy, brand identity, marketing, graphic design, website design and website development to clients including City of York Council, Lincrusta, The Sovini Group, Pure Leisure Group and Royal Westmoreland Barbados.
Kirby's appointment, and the further positions advertised, follow a number of new client wins for the agency, which hired Rob as a creatively-focused developer with a great knowledge of the latest technologies and a track record of working with some prestigious clients.
He said: "Factored is a highly creative brand consultancy and design studio that collaborates with ambitious, like-minded businesses to challenge the status quo and create change, working all the way through from long-term strategic planning to concept ideation and campaign roll outs.
"With a great team ethos, I'm looking forward to working with a wide range of clients and collaborating with them to provide real change."
::
Lambert Smith Hampton (LSH) has recruited Jonathan Brown to its national capital markets team as an associate director, seated in Manchester.
Jonathan has a wealth of experience in the North West investment market and joins LSH with a strong client base and a remit to drive its industrial and office sectors forward in Manchester.
He will work alongside capital markets director, Scott Gemmell, and senior surveyor, Lawrence Vaughan, to spearhead its local North West charge.
Jonathan's appointment follows LSH revamping its transactional team, which includes Matthew Pickersgill, who leads its office agency team along with the assistance of surveyor, Luke Hopkins, while Guy Jackson heads up its industrial team with the support of Laurence Davies.
Ian Scott remains national head for built to rent (BTR) and PRS, alongside an established hotels and leisure team consisting of Hugh Anderson, Martin Davis and Daniel Whittaker.
Guy Jackson, head of Manchester's transactional team and director-industrial and logistics at LSH, said: "We are delighted that Jonathan has joined our capital markets team. His experience and network of contacts will be of huge benefit to the team.
"Jonathan will focus specifically on capital market opportunities in the industrial and office sectors, while working across Manchester feeding into the wider national capital markets team.
"We now have a dynamic, experienced and active transactional team in Manchester who are actively growing in the North West region achieving excellent results on behalf of our clients."
Jonathan Brown added: "When Guy approached me to help drive LSH's industrial and office investment focus in Manchester, the move was an easy one to make.
"With young, dynamic and highly-motivated teams throughout its Manchester office, I'm extremely excited by the prospect of providing a market-leading service to our fantastic clients.
"I hope to the hit ground running, working alongside Scott and Lawrence, to build on our client base in an increasingly buoyant transactional market."
::
The executive team for an award-winning challenger bank has been bolstered with two major promotions, which will help it stay "ahead of the game".
Warrington-based Redwood Bank has promoted Leon Marklew as director of business development, making him accountable for influencing, implementing, managing and driving the bank's lending business forward.
Leon was employed by Redwood last year as director of strategy, products and marketing.
Prior to landing that role he had successfully led several high-performing business development teams across multinational financial services organisations, delivering growth ambitions, change programmes and a proven track record of enhancing customer experiences.
Stuart Davidson has also secured a new internal role with Redwood as director of products and strategy.
He has been with the team since February 2018 and will continue to shape the direction of the bank's lending and deposit products.
His role will also encompass all elements of strategy, ensuring Redwood's products and services meet customer requirements and growth ambitions.
Gary Wilkinson, chief executive and co-founder of Redwood Bank, said: "Since coming on board both Leon and Stuart have made a significant impact on the business and our approach to growth.
"They have both proven their dedication and loyalty as well as impressing us with their innovative approach to Redwood, which made promoting them a very easy decision to make.
"Leon's experience prior to joining Redwood will continue to be important in driving and achieving the bank's lending goals for 2020 and beyond.
"As for Stuart, we're confident his impressive product management skills will ensure we stay ahead of the game when it comes to implementing new products, managing existing customer offers and helping Redwood go from strength-to-strength."
Redwood Bank is the UK's first business challenger bank to be completely born in the cloud.
Last year it was tipped as 'one to watch' in the Best Challenger Bank category at the Growth Finance Awards and the bank was double award winners at the Savings Champion Awards, picking up the Best Business Account Provider and Best Charity Notice Account Provider.
Redwood Bank's products include individually-assessed mortgages for business owners and professional landlords as well as a range of Best Buy savings accounts offered to businesses, charities, clubs and associations.
::
St John's Buildings has welcomed four new barristers, adding greater expertise to its practice areas to ensure a tailored offering for every client.
The announcement takes the total number of barristers joining Manchester-based St John's Buildings to six in the past three months.
Family finance specialist Archna Dawar brings a wealth of experience, joining the renowned matrimonial finance team.
Archna deals primarily with high-value cases, practising on cohabitation disputes and private law children cases.
Recommended in the Legal 500 on numerous occasions, she was recently recognised as "skilled in offering innovative solutions to complex cases" and in the Chambers UK Bar 2019 as "a very competent advocate and strong procedurally".
Criminal defence specialist Rebecca Penfold joins from a leading London set, having previously worked for the Criminal Cases Review Commission (CCRC) investigating miscarriages of justice.
Areas of criminal defence Rebecca has worked across include violent offences, robbery and burglary. She is also regularly instructed to undertake Regulatory prosecutions on behalf of government departments and local authorities.
Nicholas Jackson joins as a specialist commercial and chancery practitioner, bringing with him an abundance of litigation experience in the higher courts, including at the Court of Appeal.
He has also worked in the specialist tribunals, such as the Lands and Property Chambers, as well as other alternative forums ranging from local public inquiries to commercial arbitrations.
Following 16 years at her previous firm as an associate director and head of the family department, Helen Varty joins St John's Buildings as a children law specialist. With experience in dealing with both public and private cases, she has expertise in care proceedings and regularly represents parents and children via their court appointed guardian.
Chris Ronan, chief executive at St John's Buildings, said: "It's a delight to welcome new members to our community. It's a testament to the team we already have in place here that we continue to attract the very best in the profession."
At the close of 2019, St John's Buildings also welcomed former Information Commissioner's Office data law specialist Aaminah Khan and highly-experienced family law expert Andrew Mountain to Chambers.