Building works at Manchester museum completed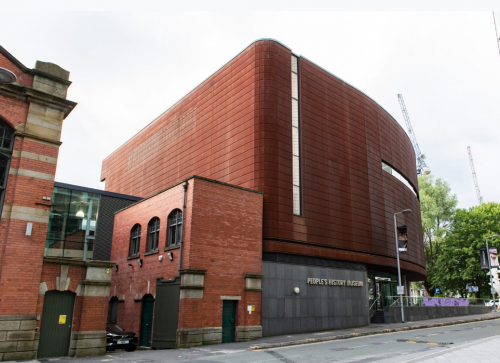 A Manchester museum has completed important building works at its Grade II listed Edwardian Pump House.
The work at the People's History Museum in central Manchester has been made possible by a grant from Viridor Credits and the Landfill Communities Fund.
Built between 1907 and 1909 the Pump House was designed by city architect Henry Price.
Once providing power across Manchester, its vast Engine Hall is now where the museum holds events, learning sessions, workshops and community exhibitions.
The project has enabled essential works to be carried out to the large expanse of windows, wall surfaces and flooring to increase heat retention and to improve the quality of sound in the vast space.
The Pump House is part of the overall museum site at People's History Museum, which includes a contemporary steel clad building that opened to the public in 2010.
A glass walkway connects the two, with the new building being where the museum's main galleries, archive and study centre, conservation studio and Left Bank cafe bar are located.
Katy Ashton, director of People's History Museum, said: "We love the fact that part of our museum site incorporates this historic Manchester building that reflects the fabric of the city.
"As with the care of any historic listed building, there are responsibilities and challenges. So we are delighted that thanks to the support of Viridor Credits we have been able to make important building improvements to the Pump House."
In addition to being used as a community space the Engine Hall and meeting room spaces within the original Pump House building are available to hire for meetings, workshops and conferences.
People's History Museum is the UK's only museum entirely dedicated to sharing the stories of the revolutionaries, reformers, workers, voters and citizens who championed, then and now, for change and rallied for rights and equality.
During 2020 through events, exhibitions, learning sessions and creative community collaborations, it will be exploring the theme of migration.