Government gives formal approval for work to start on HS2 project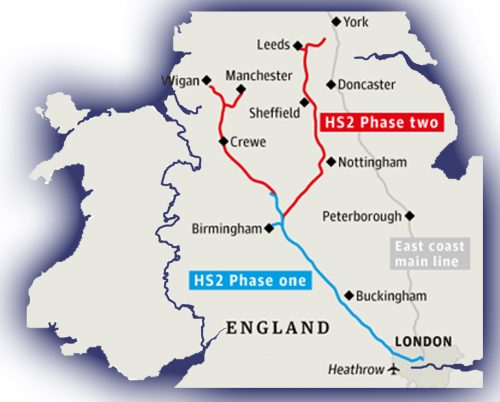 The government has given its formal approval for construction work on the £100bn HS2 rail project to get under way.
Construction firms involved in phase one of the high-speed rail project will need to follow social distancing rules.
HS2 minister Andrew Stephenson said: "We cannot delay work on our long-term plan to level up the country.
"This next step provides thousands of construction workers and businesses across the country with certainty at a time when they need it."
A notice to proceed has been given to four joint ventures, which will start work immediately.
Mark Thurston, chief executive of HS2 Ltd, said: "The issuing of notice to proceed today ensures that our contractors and their supply chains have the confidence that they can commit to building HS2, generating thousands of skilled jobs across the country as we recover from the pandemic."
HS2 will link London, Birmingham, Manchester and Leeds.
Doubt was cast over the future of the project after costs soared to more than £100bn.
But Boris Johnson approved the project following an indepent review.
HS2 minister Mr Stephenson added: "HS2 will be the spine of the country's transport network, boosting capacity and connectivity, while also rebalancing opportunity fairly across our towns and cities."
Barry White, chief executive of Transport for the North, said: "Today's announcement that HS2 has been given permission to start building the network in earnest is fabulous news.
"It marks the beginning of a new era in British railway construction that will see new high speed lines built to the North of England – the first railways to the North in more than a century.
"This will give much needed new capacity to help economic growth and prosperity and rebalance the British economy.
"Together with Northern Powerhouse Rail, transforming connectivity across the North, there is a real opportunity for levelling up to enable the North to realise its potential as a world-class area to live, work and invest."
Ged Mason, chief executive of the Morson Group, said: "The Government's formal approval to begin the detailed design and construction phase of HS2 comes at a momentous time for both the infrastructure sector and the UK economy.
"Whilst the obvious priority of the UK and other countries around the globe is to tackle the COVID-19 outbreak, we agree with HS2 minister, Andrew Stephenson, that the project cannot grind to a halt when it will be crucial in adding billions of pounds to the economy and creating thousands, if not millions, of new jobs.
"With so much uncertainty currently facing UK labour markets, this announcement provides a much-needed confidence boost to the construction workers and supply chain businesses, like ourselves, which will work together to make HS2 a reality."
However, the go-ahead was not universally acclaimed.
Speaking to BBC News, Matthew Kilcoyne, deputy director of the free-market Adam Smith Institute, branded the Government's announcement "tone-deaf" in light of the coronavirus pandemic.
He said: "We've got an economic crisis that's going to cost taxpayers billions. We can't afford vanity projects like HS2.
"We need to get back on to a sustainable financial footing."