Coronavirus business round-up: Latest news across the North West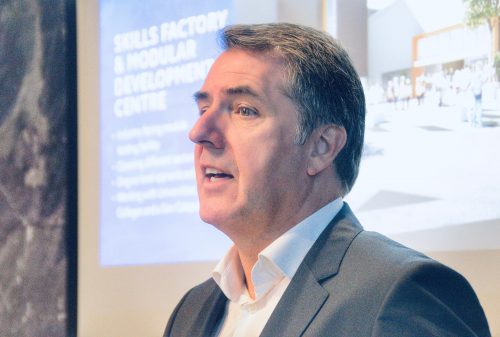 The LCR Cares Fund has reached another milestone, with more than £500,000 having been directly awarded to local community organisations to date.
Contributions to the fund, which now stand at over £800,000, have come from individuals and charitable foundations as well as from business, with increasing numbers of donations being made by Liverpool City Region's small and medium-sized companies.
Recent donations from regional SMEs include £5,000 from Sefton-based Financial Planning Corporation through their charitable foundation and £3,000 given by Liverpool construction management firm Momentum – with senior partners and directors at both calling on other local firms to give to the fund where they can.
The LCR Cares Fund was established by Metro Mayor Steve Rotheram with the aim of raising £1m to address the urgent needs of the Liverpool City Region's most vulnerable communities during the coronavirus crisis.
Just over a month after it was launched, the LCR Cares Fund has already directed grants to more than 120 local frontline charities and aid groups, enabling them to quickly provide essential food and care supplies, assistance with rents and utilities and remote health and wellbeing support where it is most needed.
Steve Rotheram, said: "I understand that this is an incredibly difficult time for many businesses.
"I am working closely with our local councils and the city region's Growth Platform to do what we can to help local businesses access the funding and support they need to keep going.
"To see us through this crisis, it is important that we all do whatever we can to help each other out.
"It's fantastic to see local businesses, already rooted in their communities, giving what they can to help support their neighbours through this crisis.
"If you can afford it, please consider donating to the LCR Cares Fund and help us support some of the most vulnerable across our region."
Rae Brooke, chief executive of the Community Foundation for Merseyside, said: "SMEs play a vital role in the growth of our local, and national, economy.
"They can also play a vital role in the strength of their local community.
"In donating to the LCR Cares COVID-19 Community Support Fund, the FPC Foundation and the Momentum Foundation are demonstrating a real commitment to both those aims.
"We can't thank them enough for their support and would call on all SMEs in the Liverpool City Region to consider if their business is able to make any form of contribution.
"We know it's incredibly tough for the vast majority of businesses at the moment, but we have been delighted to see companies like FPC and The Momentum Group who can give, are giving."
Managing partner of Financial Planning Corporation, Moira O'Shaughnessy, said: "At this time of unprecedented demand, we are delighted to be able to answer the call from our friends at the Community Foundation to contribute to the LCR Cares Fund from our newly-formed FPC Foundation.
"We congratulate all those involved in this fantastic initiative and would encourage all small businesses to join us in supporting the relief effort if they can. Every little makes a huge difference."
Chris Bliss, co-founder and director of The Momentum Group, said: "One of our priorities at the time of establishing our business was to set up a foundation to support the local communities in order that we give back to where we draw from.
"We are a property company providing building, management and maintenance services to our clients, managing and enhancing their assets and providing a better environment for their tenants.
"Given the current pandemic, we recognise that a lot of people need additional support and the LCR Cares Fund is ideal to ensure the monies donated are channelled to the community and volunteer workers on the frontline."
::
Fifty Lancashire businesses have the chance to tap into an exclusive programme of online coaching to help fast-forward their recovery from coronavirus.
The Boost Success GPS Online programme is a partnership between Boost, Lancashire's Business Growth Hub, and Burnley-based business coach Andrew Henderson through his company Forward Thinking.
It includes 14 interactive video coaching sessions to help businesses create a structure and vision for future growth.
Fifty free places, funded by Lancashire County Council, are available for Lancashire businesses to benefit.
The programme is part of Boost's #AskForHelp campaign, launched on March 23, to support all Lancashire businesses through the coronavirus pandemic.
Andrew Leeming, programme manager, Boost, said: "The #AskForHelp campaign has provided invaluable support to help businesses tackle the challenges presented by coronavirus.
"We are here for clients throughout this journey.
"Many businesses have successfully adapted to these new conditions and now need to think about recovery. Forward Thinking has a great reputation and this is a service which has been used by hundreds of businesses.
"Boost Success GPS Online will help Lancashire companies tap into an established, successful model and develop a plan to succeed and grow over the next decade.
"We hope this collaboration will reach some businesses that have yet to hear that Boost is here to support and can bring more companies into the Boost family."
Andrew Henderson, business coach and founder of Forward Thinking, said: "The programme applies practical psychology to merge the process of growing a business with personal development for the business owner. It is focused on where you want to be in the future: increased revenue, profits and new customer wins.
"We have helped hundreds of businesses achieve success through this model and we're excited to be working with Boost and Lancashire County Council to help businesses bounce back from the coronavirus pandemic."
Businesses can apply for the Boost Success GPS Online programme by visiting: https://www.boostbusinesslancashire.co.uk/boost-success-gps-online-programme/
::
Charity, Bridge Community Farm, in Ellesmere Port, is seeing demand for its vegetable boxes surge during the coronavirus pandemic.
The charity, which has been working flat out to meet the demands of people affected by the pandemic, has taken on an extra 350 customers in the past few weeks.
Clair Johnson, general manager, said: "Most of our new customers have come to us because they are in self-isolation, can't get to the shops and don't know of a local support group to shop for them.
"Some are elderly, some are living alone and most are anxious about how to get healthy fresh food into their homes.
"We're delighted to be providing a much-needed service to our community.
"Our customers are immensely grateful for contact from us, a cheery e-mail or Facebook message, a chatty phone call and the excitement of a vegetable, salad or fruit box delivery once a week or once a fortnight.
"All express their heartfelt gratitude to our 20 valiant volunteer delivery drivers when they drop off their boxes and then, of course, retreat 10 metres to have a little chat."
Bridge Community Farm is based in Ellesmere Port and supports those coping with mental health and learning difficulties in the therapeutic environment of their 10-acre farm.
It also creates jobs for the long-term unemployed growing fresh vegetables, salads, herbs and fruit in their fields and poly tunnels.
The Farm is currently closed to the public.