People on the Move: Knight Frank; Brabners; Hill Dickinson; Reparo Finance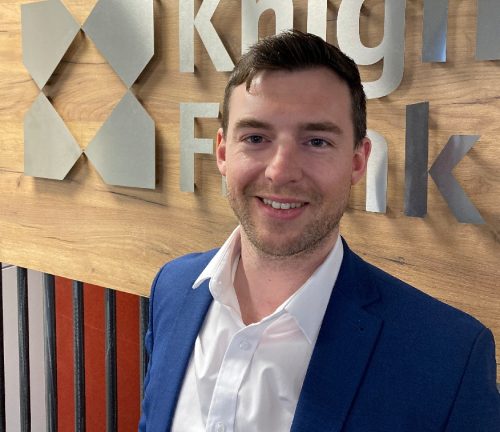 Chris Harrison has joined Knight Frank's residential development and investment valuation consultancy team in Manchester as an associate.
He joins from Cushman & Wakefield and brings extensive experience having worked on the viability and valuation of many of Manchester's highest profile residential schemes including Manchester New Square for Urban & Civic and the PRS schemes at Greengate and Anaconda Cut.
He said: "Residential growth in Manchester and the city region has been phenomenal in the last five years and continues to dominate.
"Knight Frank is a leading name in residential property and I'm excited to grow our service offer across Manchester and the North West, working with clients old and new."
Residential development and investment valuation partner Dan Searle said: "Chris and I previously worked together at C&W and I am really pleased to have his enthusiasm and experience on the team.
"The residential market in the city and wider North West region has continued to perform and Chris will assist in our capacity to work with a range of clients in a rapidly changing and expanding market."
The Marsden Street agency also announced the promotion of Mark Chalkley, in the property asset management team, to associate.
Head of office, David Porter, said: "We are delighted to finally be able to welcome Chris to the office and Mark's promotion – part of Knight Frank's annual review – demonstrates how the partnership rewards good effort even in challenging conditions."
::
Independent law firm Brabners has appointed a new partner to its pensions team as that practice group continues to experience significant revenue growth.
Caroline Curran joins from PwC's Manchester office where she was a director and head of pensions legal in the North as part of PwC's 15-strong national pensions legal team.
Prior to that she spent nine years in the pensions practice at Eversheds Sutherland.
The appointment comes as Brabners seeks to maintain the strong growth of its pensions practice. The team, headed up by partner Ian Mylrea, increased fee income by 85% over the two-year period ending March 2020.
Nik White, managing partner at Brabners, said: "Caroline is a vastly experienced lawyer and will be crucial to the continued growth of our pensions practice.
"The team has gone from strength to strength recently, demonstrating the breadth of our offering by referring work into our corporate, commercial, litigation and property practice groups.
"The outbreak of COVID-19 has caused major challenges for many businesses and there is increased demand for a number of our service lines as a result. I have no doubt that Caroline's expertise in helping businesses and pension trustees manage their pension schemes will be invaluable in the coming months."
Caroline Curran said: "Brabners' pensions practice has made great strides in just a few short years and it's a privilege to be welcomed into a team with such significant potential.
"We've seen the challenges of an ageing population and, consequently, expanding pension liabilities come to a head for a number of high-profile firms in recent years.
"In the face of a new crisis, an effectively-managed pensions scheme remains essential for businesses looking to support their people and ensure financial resilience."
Brabners' pensions practice launched in 2014. Major brands, including Panasonic, Fujifilm and The Very Group, are among its list of clients.
::
Commercial law firm Hill Dickinson has announced its 2020 senior promotions, with a total of 17 lawyers being promoted to partner and legal director.
Of the 17, five have been made up to partner and 12 to legal director.
The promotions are firm-wide and this year include lawyers based in offices in Liverpool, Manchester, London, Leeds, Piraeus and Hong Kong, with specialist expertise ranged across practice areas including healthcare, employment, property, cargo, commodities, regulatory, commercial litigation and shipping.
There are two partner promotions in the firm's London office and one each in Liverpool, Leeds and Hong Kong.
There are four promotions to legal director in each in the firm's London and Manchester offices and two each in its Liverpool and Piraeus (Greece) offices.
Promotions in Manchester are, legal directors Andrew Little (commercial litigation), Ed Locke (cargo and logistics), Rebecca Sharrock (healthcare), Alistair Wallworth (property).
While in Liverpool Nina Ferris (commercial litigation) has been made a partner, and legal director promotions are Emma Ahmed (employment commercial) and Rizvan Rasul (health team – costs).
Hill Dickinson chief executive Peter Jackson said the promotions were recognition of the effort and hard work put in over the previous 12 months by those who have been newly promoted, and that the current economic situation did not change that.
He said: "I am delighted to announce our promotions to partner and legal director for 2020. We are a law firm that places huge emphasis on developing our people to be the best they can be, and it is only right that these 17 lawyers, all of whom have shown exemplary progress in their legal careers with Hill Dickinson to date, should see their efforts recognised."
He added: "We grow our people so that the individual client relationships they build directly reflect the values we uphold as a firm. Their future is our future and, on behalf of our board, I extend my warmest congratulations to them all."
::
Oldham-based business lender Reparo Finance is further strengthening its team with the appointment of Daniel Jones as business development manager.
Daniel joins from Lloyds where he spent more than 10 years as a local business manager.
With extensive experience in financial services and a focus on commercial lending, he has worked across a variety of sectors, including hotel, retail and leisure.
In his new role Daniel will be responsible for developing new business for Reparo in the South West and South East as the firm builds its presence across the UK.
Daniel said: "This is a fantastic opportunity to join a fast-growing, boutique firm that has carved out a niche for itself as a specialist lender, helping SMEs with their funding challenges.
"In the current difficult conditions it is going to be more important than ever that businesses are able to turn to lenders who have a flexible, performance-based approach and can act quickly to provide support.
"I am a firm believer in building strong relationships with clients and look forward to working with businesses and brokers across the region to help provide lending solutions."
Steve Richardson, sales director at Reparo, said: "With his understanding of the needs of small businesses and his commitment to helping them thrive, Daniel is a perfect fit for Reparo.
"His skills and passion will make him a welcome addition to the team as we continue to extend our footprint, providing a much-needed alternative to mainstream lending across the UK."
Reparo Finance Group provides flexible loans of between £20,000 and £1m with loan terms of between three months and five years. Focusing solely on the SME market, the firm offers secured and unsecured lending based on rapid assessment of businesses by its expert team of relationship managers.