People on the Move: Land Law; TalkOut; DSW Debt Advisory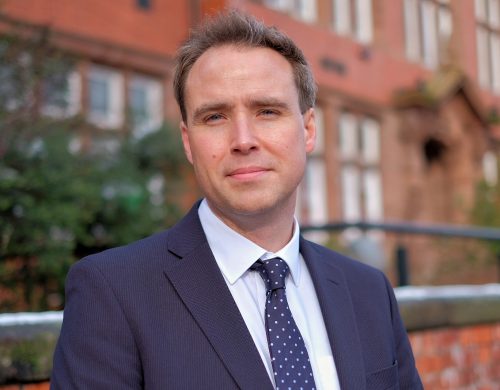 North West commercial property law specialist Land Law has announced the appointment of a new partner.
Tim Richards becomes the 10th partner at the Altrincham-based firm, just two years after he joined from one of its competitors.
Founder and managing partner, Angus Whyte, has described how Tim had made "remarkable progress" since his arrival, helping win new business and becoming "a trusted advisor" to the firm's existing clients.
Angus added that a "substantial' six-figure investment in IT which put Land Law among the region's most digitally advanced businesses had enabled it to cope with the challenges posed by the coronavirus lockdown.
"The coronavirus crisis has had considerable impacts for so many organisations and the individuals who work for them.
"However, we didn't want the current situation to prevent us from formally recognising everything that Tim has achieved in his time with us so far.
"Despite the very rapid changes to working arrangements, our transfer of essential functions to a bespoke cloud structure last year meant that fee earners and support staff were able to operate almost as normal from home within 24 hours of the lockdown being announced.
"Given how such a traditionally document-heavy sector as commercial property has been affected by the global shut-down, that technological edge has allowed us both to overcome potential difficulties and develop further innovative solutions to help clients come to terms with new and radically different circumstances.
"The economic effects of the pandemic have been so far-reaching that it's almost impossible to accurately predict what the sector will look like in a year from now, although a restructuring of client portfolios is likely as investors and developers come to terms with what exactly has happened to their stock."
He added: "Nevertheless, I believe that we are in as good a position as possible with a strong team of experienced and capable lawyers and a very agile IT system which can adapt to whatever our clients and the circumstances require."
Tim's promotion caps a busy two years since he joined Land Law from Addleshaw Goddard in April 2018.
A transactional lawyer, he works closely with investors and developers operating in the industrial, retail and office sectors.
In particular, Tim has contributed to a number of the notable recent and ongoing projects handled by Land Law.
He provided advice to the confectioner Swizzels Matlow on new warehouse premises at Middlewich in Cheshire and assisted the property investor Hollins Murray Group in its acquisition of a listed office building – Haw Bank House – in Cheadle, from Bruntwood.
::
Manchester-based, mental health organisation, TalkOut, has appointed Jill Mead to the position of chief executive for the newly-created TalkOut Group, comprising TalkOut, the consultancy business, TalkOut Tech and TalkOut VR.
The move is part of a significant expansion of its support for the UK's business community through the addition of highly-immersive virtual reality (VR) software and the launch of a wellbeing app.
TalkOut was co-founded in 2019 by the former HR director, mental health first aid instructor and Childline volunteer, Jill, who provides a strong voice for mental health in the workplace.
The expansion plans have been rapidly brought forward to meet the needs and unprecedented working conditions arising from the coronavirus outbreak.
TalkOut's new digital provision complements the company's existing mental health training and consultancy programme but also enables it to support businesses and their employees remotely, which will help to overcome any barriers and silos caused by ongoing lockdown restrictions.
Jill Mead said: "It has never been more important that we find new, dynamic ways to support people's mental health needs in the workplace and having a digital offer to work alongside our successful training and consultancy programme will help us to reach more organisations and more people quickly.
"We have a talented team of digital connection experts who understand how technology can support emotional wellbeing and the TalkOut app will not only give people a voice, but enable people to feel connected and supported in a digital space.
"Greater Manchester is a global hub for digital innovation, so there is no better place to be launching this unique virtual experience, aimed at genuinely improving the wellbeing and livelihoods of the workforce."
::
DSW Debt Advisory, the new service launched just before the lockdown to help companies raise debt funding, has attracted another senior banking figure.
Simon Carrier, who recently departed his post as regional managing director of Shawbrook Bank, has joined as a partner to help meet the growing demand.
Simon's 25-year banking career includes spells at RBS, Bank of Ireland and Santander where, as regional director of its corporate and commercial arm, he helped introduce its business banking service across Merseyside, Lancashire and Cheshire.
DSW Debt Advisory, which is part of the Daresbury-based Dow Schofield Watts group, is aimed at companies typically seeking debt funding of £5m to £200m. It was launched in February by another former senior banker, Phil Tarimo, who now plans to extend the service into other regions.
Simon Carrier said: "After many years as a banker assessing applications, I am looking forward to sitting on the other side of the desk and advising clients directly.
"It comes at a time when many companies are seeking additional funding or reassessing their existing facilities. This is an exciting opportunity to work with Phil to build a national debt advisory brand."
Phil Tarimo, who has held regional and national banking roles and who co-founded Deloitte's debt advisory business, said: "It is great to welcome Simon on board. Many companies were already needing to refinance to deal with Brexit uncertainties, but the lockdown has created additional impetus.
"It is critical they present their case properly and negotiate the appropriate funding structure, and who better to help than senior bankers who have spent years making these decisions?
"We are also in discussions with other senior individuals with a view to extending our service both in the North West and into other regions."
James Dow, founding partner of Dow Schofield Watts, said: "DSW Debt Advisory has got off to a strong start.
"It demonstrates the benefits of the Dow Schofield Watts business model, which allows professionals to run their own business using flexible and remote working and is ideal for the post-COVID world."