Coronavirus business update: Latest news across the North West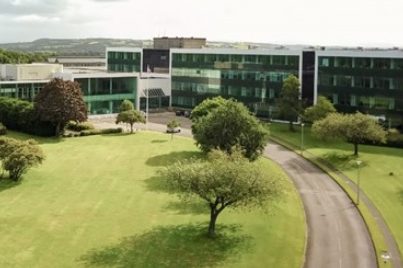 An R&D team based in Lancashire has been recognised for its antiviral glass development project.
The team is based at the Lathom European Technical Centre of Japanese glass giant Nippon Sheet Glass (NSG).
NSG took over the St Helens glass group Pilkington in 2006.
The Lathom team has received a 100% award from Innovate UK, the UK's innovation agency for its antiviral glass development project.
The project evaluates the antiviral functionality of two coated products to actively reduce viral load on glass surfaces, specifically SARS-CoV-2.
The product developments, already in an advanced stage, have been accelerated by the COVID-19 rapid response innovation funding at the Lancashire site.
The project is managed within the R&D incubator portfolio, which advances future technologies through innovation and collaboration with commercial and academic partners.
Mike Greenall, chief technology officer at NSG Group, said: "We are excited about the award. It will truly motivate our R&D team who have rapidly responded to a market demand under challenging working conditions during the pandemic.
"At this moment in time there aren't any antiviral coated glass products with these properties. If successful, a product with high durability will be available for immediate use in buildings, public transport, contactable surfaces and barriers."
Executive chair, Innovate UK, Dr Ian Campbell, said: "Businesses from all over the UK have answered our call rapidly to meet the challenges we face today and in the future through the power of innovation.
"The ideas we have seen can truly make a significant impact on society, improve the lives of individuals, especially those in vulnerable groups, and enable businesses to prosper in challenging circumstances."
::
A vaping company has switched its production focus to making hand sanitiser and joined forces with the National Care Association to provide essential PPE (personal protection equipment) to some of the UK's most vulnerable frontline workers.
Vape Dinner Lady has repurposed a production line at its manufacturing base in Blackburn and created 24 jobs to produce hand sanitiser to help meet unprecedented demand from key workers during, and beyond, the coronavirus pandemic.
In addition to producing hand sanitiser VDL has used its strong sourcing network to import thousands of bottles of WHO-standard hand sanitiser, face masks and clinical PPE into the UK to answer immediate demand.
Vape Dinner Lady chief executive, Mohammed Patel, said: "The business feels it is vital to support those in need at this critical time, particularly those in small businesses within the care sector who are often overlooked by large scale corporate donations.
"Teaming up with National Care Association we will help support those most in need at this difficult time with the best interests of our loyal customers and community at heart. We were moved by the issues raised by the NCA, particularly those facing privately-run care homes across the country and we wanted to help."
The company will initially donate 10,000 individual-use hand sanitisers to frontline care workers working within care homes in the National Care Association network. This is especially important as experts predict the use of hand sanitiser will now become the norm, even after the coronavirus pandemic is over.
The new production line in Blackburn was repurposed within days and at full capacity can produce 10.5 million bottles of Sanditize hand sanitiser annually, with a market value of £26m.
The unprecedented demand has led to the immediate creation of 24 full-time positions and orders have been received from a series of national high-street retailers.
The business is also eyeing up a £500,000 expansion plan to deliver projected sales, due to be announced later in 2020.
::
Cheshire East Council will be focusing on celebrating and raising awareness around the borough's estimated 40,000 unpaid and hidden carers, as part of national Carers Week which starts this week running from June 8-14.
The annual campaign highlights the challenges of having sole responsibility for looking after a vulnerable loved one.
Whether this is a young child or teenager caring for a relative or vice versa, a son or daughter caring for an elderly parent or spouse caring for their partner with a terminal illness, the council says it is important all carers have access to vital support.
This year, the theme is 'making carers visible' as carers are continuing to face new obstacles as a result of the COVID-19 outbreak. The council received seven new referrals of young people to the carers' hub service in May, five of which are aged 12-17 and two five-11.
Cllr Kathryn Flavell, cabinet member for children and families, said: "The council recognises the need to gain the trust of unpaid carers of all ages and reassure them that we can help – our carers' hub does exactly that.
"Given the current circumstances of COVID-19, young carers may be feeling extremely isolated, and we want them to feel fully supported by our services."
Cllr Laura Jeuda, cabinet member for adult social care and health, said: "Cheshire East carers' hub works closely with Crossroads Together, a charity who offer respite care for up to three hours, with full PPE, while the carer has a break.
"Unpaid carers are the unsung heroes of this pandemic, providing unconditional care to a loved one is a hardship no-one should have to face alone."
The council commissions its carers' hub from n-compass, which is expert in providing a high quality care service that makes a difference in people's lives.
Teresa Jennings, n-compass chief executive, said: "The theme of Carers Week, 'making carers visible', has never been so relevant as it is today. The current national crisis has led to many unpaid carers having to provide even more care for their elderly, sick or disabled family or friends.
"Whilst the current crisis has rightly shone a light on the work of carers and the critical role they play, we need to ensure that the army of unpaid carers we work with every day at our Cheshire East carers' hub are supported. Without them the health and social care system would simply not be able to manage."
Carers can contact the hub by calling 0300 123 5034 or completing the 'I need help' section at cheshireeast.gov.uk/peoplehelpingpeople
::
Anwyl Partnerships, specialists in the provision of residential land and build developments, has reopened all its building sites across the North West and North Wales and is currently operating at 70% capacity as the firm gradually reintegrates its large workforce following the COVID-19 restrictions.
Two sites to open are an £11m extracare scheme in Warrington for Torus, and a £25m extracare and affordable housing scheme for Torus in Rock Ferry, Wirral.
Two major projects, a social housing scheme in Rhyl and an extracare scheme in Aberystwyth, have remained live throughout the pandemic.
During lockdown, and moving forward, Anwyl Partnerships, based at Ewloe, neat Chester, continues to adapt its wider operation in response to government guidelines and industry directives.
Managing director Tom Anwyl said: "Without a doubt, the past eight weeks have been incredibly challenging. We've carefully followed government advice and the information provided by the Construction Leadership Council and have been introducing practical and sustainable changes almost daily in line with this information.
"Open and clear channels of communication have been retained throughout and we've worked closely with all of our partners to apply the correct approach and implement the most appropriate processes.
"I'm pleased to say that we've enjoyed positive feedback from employees, sub contractors and clients regarding our wider proactive approach."
He added: "We currently have eight major live projects with a further four to begin in the coming months.
"Thinking ahead, I believe the pandemic will fast track the movement towards Modern Methods of Construction and we will see more demand for this approach, which our business already embraces."